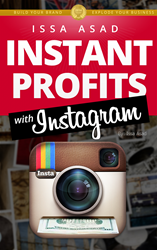 The truth of the matter is simple; users are jumping from Facebook to Instagram, so it is important for businesses to also jump on over and ensure they are making the most out of their online marketing efforts
Dania, FL (PRWEB) October 24, 2014
Issa Asad, who is a social media and marketing expert and author of the Amazon best-selling book, Issa Asad Instant Profits with Instagram, exclaims that businesses are afraid of using Instagram for promotional purposes.
Asad, who is a Miami-based entrepreneur and Chief Executive Officer of Centurion Logistics, LLC, and Quadrant Holdings, LLC, located in Dania, FL, says that many businesses are making a crucial and hindering mistake by limiting their use of Instagram.
"The truth of the matter is simple; users are jumping from Facebook to Instagram, so it is important for businesses to also jump on over and ensure they are making the most out of their online marketing efforts," said Asad.
Asad's Instant Profits with Instagram teaches businesses how to cope with the vast changes that have taken place in the marketing industry in recent years. Asad says the eBook, which is free on Amazon, Google Play and iTunes, explains how to build an Instagram following that you can turn into paying and loyal customers.
The book also details how often, when and what types of images and videos to share, who to reach out to and how businesses can build their audience.
"Businesses are not really sure how Instagram can help with their online growth," said Asad. "Some may be hesitant, may not feel comfortable or simply do not know what to do with Instagram once they open their account."
Asad says that sharing photos and videos on Instagram is an exceptional tool for businesses to utilize.
"Image and video sharing is a simple way to give your customers more knowledge and insight as to how your business functions and develops your product lines," said Asad. "Use the opportunity to give customers a firsthand look into your company and build your brand loyalty in no time."
Instant Profits with Instagram was released on September 10, 2014, in Amazon, and was later released in Google Play, Barnes & Noble, Smashwords and most other online book retailers. Since its release, the book has become a best-seller in Amazon's Entrepreneurship & Small Business category.
Using a step-by-step approach, the book helps businesses learn how to profit from Instagram. Topics in the book include: creating a perfect Instagram profile, selecting the right hashtags, using apps to leverage your posts and more. You can learn more about Instant Profits with Instagram and how to build your business' Instagram campaign by clicking here.
As a leader in the telecommunications and technology industries for over 15 years, Asad understands how to make a successful social media campaign. Additionally, Asad has led, founded and worked with various tech companies in the tri-county areas of South Florida. To learn more about Asad, follow him at https://www.facebook.com/IssaAsadAuthor
Download Instant Profits with Instagram Now
Instant Profits with Instagram is currently available for free on various online book retailers. Download the free book on Amazon today by clicking here.