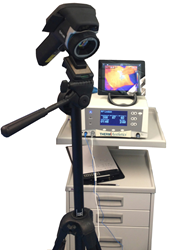 Chicago, IL (PRWEB) October 24, 2014
ThermiRF, the only micro-invasive temperature-controlled radio frequency solution on the market, was chosen as one of the "Best of Hot Topics" at the 2014 American Society of Plastic Surgeons' (ASPS) annual "The Meeting" for the second year in a row. At the highly attended and much anticipated Hot Topics in Plastic Surgery Symposium, members presented and assessed innovations by the world's leading plastic surgeons.
Since its pre-commercial introduction in the United States in 2012, general plastic and facial plastic surgeons, dermatologists and cosmetic surgeons around the world have used ThermiRF in a variety of clinical areas to treat skin laxity. Using the "science of heat," ThermiRF allows plastic surgeons and aesthetic physicians to use temperature as a clinical endpoint, precisely heating soft tissue and nerves to yield a meaningful clinical outcome for their patients. There is growing demand from baby boomers who are seeking advanced, anti-aging solutions, which fall "in-between" non-invasive treatments and major surgery. ThermiRF applications target patients seeking long lasting single-treatment solutions for various aesthetic complaints – patients see results after a single pain free treatment with no downtime. ThermiRF treatments currently tout a 100% approval rating on RealSelf.com, an online community of unbiased patient reviews of cosmetic treatments.
About ThermiAesthetics
ThermiAesthetics is a global manufacturer of state of the art aesthetic technology. The company's mission is to provide solutions for cosmetic physicians who are caring for aesthetic patients who seek to reverse the effects of aging. ThermiAesthetics solutions include ThermiTightTM for skin laxity, ThermiRaseTM for unwanted frown lines, ThermiSmoothTM for wrinkles and skin irregularities, among other applications.
ThermiRF features a unique temperature control feature and uses proprietary hand pieces, which are designed for specific medical applications. These include a variety of disposal RF electrodes and cannulas and reusable non-invasive hand pieces.
About the ASPS Hot Topics in Plastic Surgery Symposium
Sponsored by the American Society of Plastic Surgeons, the largest plastic surgery organization in the world, the symposium was held on October 11, 2013 as a special educational program designed solely for the purpose of research and education in plastic surgery. Many topics presented at past Hot Topics symposiums are now mainstream techniques used in physician offices worldwide.
For more information, please visit http://www.thermi.com.
###