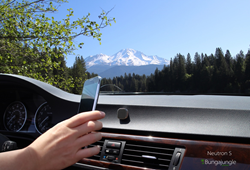 Chicago, IL (PRWEB) October 24, 2014
Bungajungle's new mounts have received excellent reviews after backers received them from the recently funded Kickstarter campaign. During the campaign the company also did a road test to show the magnetic strength of the beautiful Neutron S and Neutron A mounts. The road test video shows an iPad Air, Samsung Galaxy Note 3, and a large GPS being held by the Neutron mounts on a rough bumpy road.
Many people wondered how such a small mount could hold up so well. To counter the speculation the video has been released on the company's youtube channel.
The Neutron A and Neutron S Kickstarter campaign raised nearly $98,000 in just 26 days. Currently, Bungajungle is having a 20% Halloween and free shipping sale on all of their products. They also are in progress with another successful campaign on Kickstarter, "Nope". Nope is a small privacy shield for electronics. So far it has raised over $62000 with 25 days to go.