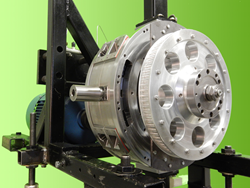 "Shaping Tomorrow, by Impacting Today"
Las Vegas, Nevada (PRWEB) October 29, 2014
Ohio once again gave birth to another invention:
The CHB-Evo. Internal Combustion and Steam Engine
NIAMA-REISSER, LLC is gearing up to present the complete engine for the first time at this year's SEMA Aftermarket Auto Show in Las Vegas, NV. For the past three years, the company has been working on optimizing its internal combustion engine and expanding its functionality into the steam engine market. Having been first patented between the years of 2005 and 2006, now it is covered by dozens of patents worldwide registered in the USA, Europe and Asia.
With a significantly higher thermal efficiency and reduced emissions foot print, the internal combustion engine will surely impact today's powertrain market. The company claims that its patented kinematic mechanism increases thermal efficiency by up to 27%. "The entire powertrain was newly developed from ground-up", so the CEO, Heinz-Gustav Reisser.
The choice of fuel is currently diesel, due to the ever increasing availability and its higher energy content. According to the company, the engine is "Common-Rail diesel direct injected, supercharged and turbocharged". Heinz-Gustav Reisser says: "We have combined proprietary technology, proprietary materials and third party accessory products to achieve this internal combustion engine platform".
The engine is unique in itself, because it is an opposing piston design which oscillates around a central pivot point. The pistons do not rotate. They move from one end position to another. According to Heinz-Gustav Reisser, the inventor of the CHB technology and CEO of the company: "The design allows for the power generated during the power stroke of the 1st combustion chamber to be directly used to compress the 2nd 180 degrees rotationally displaced combustion chamber; thus eliminating power losses due to linkages and inertial load."
Not only is the engine more efficient and environmentally friendlier, but it costs less to produce! The company claims that the envelope size and component count are significantly reduced over regular internal combustion engines. In addition, the modular engine design –coupling multiple 1,000 ccm modules together- reduces production costs across the board. So, larger, higher output engines can be manufactured by coupling smaller 1,000 ccm modules together, which by themselves already have 130 HP and 300 Nm of torque. The company claims that other fuels like gasoline, CNG, Hydrogen, etc. can be used to operate the engine.
Since two years, the company has advancing its CHB-Evo. engine platform into the steam engine market. The company is working closely together with power generation companies / utilities and large diesel engine manufacturers that want to use the CHB-Evo. Engine as a steam engine, turning the number one source of energy loss -waste heat- into another source of energy.
Exhaust gases will heat up a medium, which in turn generates steam and fuels the CHB-Evo. Engine coupled in-line in this closed loop system. The CHB-Evo. Engine is superbly suited for this type of application, due to its endurance in high temperature environments and small envelope size.
To view a video about the product visit:
For more information about the company visit:
To contact via email write:
admin(at)niamareisser(dot)com
NIAMA-REISSER, LLC delivers! It all started with a vision, an idea and a patent. The innovator, inventor and visionary, Heinz-Gustav Reisser was stern fast in developing, building and marketing improved and revolutionary internal combustion engines. Having patented numerous patents and patents pending since 2005, the count exceeds 30 international patents, he founded NIAMA-REISSER, LLC in 2007, after having worked in Germany, Stuttgart and Ingolstadt, with prominent automotive companies and suppliers.
Since that day, Jan. 1st 2007, NIAMA-REISSER, LLC –A Vehicle and Propulsion Service Provider-, has worked with numerous industries. This in turn helped them develop their own testing facilities and engineering departments. In 2011, it grew even more, having added their own machining capabilities.
Today, NIAMA-REISSER, LLC, can be your partner for complex engineering, machining and product development projects. The In-House Engineering and Machining Departments not only cater to the company's needs , but to those of third parties.