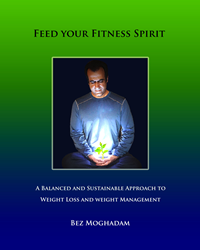 San Jose, CA (PRWEB) November 11, 2014
"Feed Your Fitness Spirit," a book by Bez Moghadam, covers a holistic approach to weight loss integrating the mental, emotional, and physical components of the weight loss journey for a unique and fulfilling fitness experience. The book shows readers how to set realistic expectations, make sustainable change, and become more "selective" and deliberate in their actions to reach their goal and develop confidence in their ability to lose weight. Specifically, the book helps readers use emotional insight, a positive frame of mind, laser sharp focus, and overall self-awareness to connect to their core essence as individuals and harness their strengths towards taking action to not only reach their ultimate goal (their desired body weight), but to maintain their desired weight and results long term. This book is about celebrating and arriving at oneself in the process of losing weight and gaining personal insight while embracing the journey of weight loss and self discovery in unison.
Bez Moghadam has been an American Council on Exercise (ACE) Certified Personal Trainer since 1997 and has a Masters in Business Administration (MBA).
Contact info:
Bez Moghadam
e-mail: bez.moghadam(at)thefitnessspirit(dot)com
phone: 408-396-8659
website: http://www.thefitnessspirit.com
eBook sold at:
http://www.amazon.com
http://www.kobobooks.com
http://www.barnesandnoble.com
Book print version sold at:
http://www.mirabooksmart.com/Feed-Your-Fitness-Spirit_p_577.html