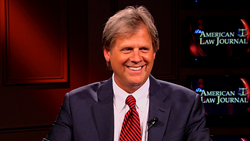 Philadelphia, PA (PRWEB) October 24, 2014
In the wake of the Wall Street meltdown, banking fraud and historic pharmaceutical False Claims Acts settlements in the billions, why are CEOs not going to jail?
The American Law Journal host Christopher Naughton welcomes former Assistant U.S. Attorneys Joe Poluka of Blank Rome and Joseph Trautwein of Trautwein & Associates, Patrick Burns Co-Executive Director of Taxpayers Against Fraud, plaintiff's attorney Stephen Sheller of Sheller, P.C. and Ed Silverman of The Wall Street Journal's Pharmalot. The panel looks at some of the most notorious corporate crimes over the last decade and notes that no one is being held personally accountable nor are corporations pleading guilty to felony charges.
This show originally aired on Monday, October 20, 2014 on the Philadelphia CNN-News affiliate WFMZ-TV and is available online now.
Also on the program, The Legal Intelligencer newspaper's Senior Staff Reporter Gina Passarella interviews plaintiff's lawyer Tom Kline of Kline & Specter and corporate defense counsel Ron Levine of Post & Schell in the opening feature report.
The American Law Journal is now in it's 25th season of broadcasting on the CNN-News affiliate for Philadelphia, WFMZ-TV 69 to Pennsylvania, New Jersey and Delaware. Airing Monday nights at 7:00 pm, the program is also available on YouTube.com/LawJournalTV. For over the air channels (HD, satellite) see http://bit.ly/ALJchannels.
About The American Law Journal
The American Law Journal is the weekly talk-feature program hosted by former New Jersey prosecutor and trial attorney Christopher Naughton. It airs Monday nights at 7:00 p.m. on the CNN- News affiliate in Philadelphia, WFMZ-TV to Pennsylvania, New Jersey, Delaware and online.
The program discusses consumer, business and Constitutional issues with attorneys, law professors, judges, elected officials and others to shed light on current legal news and how the system impacts the everyday lives of citizens. Programs are live or taped in studio and on location in and around Philadelphia. For information, schedules and more, visit LawJournalTV.com. Archived programs can be viewed on YouTube, http://www.YouTube.com/LawJournalTV