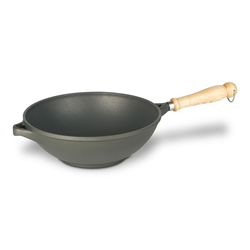 Lima, Ohio (PRWEB) October 24, 2014
Berndes Cookware, the #1 selling brand in Germany and leader in all of Europe, is experienced and well-known for quality making the difference. The Tradition Cookware Line, known for its distinctive natural wooden Ash handles and complimentary soft gray interior and exterior, is adding a Wok to its sought after cookware line.
Keeping true to the traditional look and feel of the Tradition Cookware, the Wok is constructed of a vacuum-cast aluminum, the interior cooking surface is finished with a triple layer and exterior with a double layer of Weilburger, Greblon® C3+, also known as "Stonehenge," professional quality non-stick coating. The 4.5 quart/ 11.5 inch Wok will be available November 3, 2014.
Its sleek appearance is very attractive and will compliment other Tradition Cookware pieces. For open stock pieces, there is a lid available for additional purchasing that is complimentary to the size of the Wok if desired.
If you would like more specific product information, go to http://www.berndes-cookware.com.
About Berndes
Berndes has developed, produced and distributed cookware since 1921 and is the largest pan manufacturer in Germany, as well as the world-marketing leader in nonstick coating cookware made of cast aluminum. The high quality, award-winning range made of cast aluminum, spun aluminum and stainless steel is exported worldwide and has been distributed through qualified channels for decades.
With a marketing strategy that focuses on people with an affinity for cooking and appeals to the emotions, Berndes is set for success. As has always been the case, production is carried out at the company headquarters in Arnsberg, Germany. These processes only use materials that do not affect the environment, resources or health. The in-house test laboratory conducts continual quality controls accompanying production. Neutral test institutions both attest the company's high quality standards repeatedly domestically and abroad.