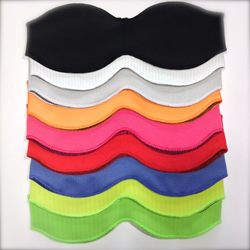 I used to get migraines, and I'm very sensitive to light. I knew if I could find an ergonomic sleep mask, it would dramatically improve my sleep.
Portland, OR (PRWEB) October 24, 2014
Recent findings by the CDC indicate insufficient sleep is a public health epidemic with an estimated 50-70 million US adults suffering a sleep or wakefulness disorder.1 In response is the Smaharty, an innovative 3-in-1 Sleep Mask, Hair Band and Hair Ty accessory. Its patent pending sleep mask technology is specially designed to block the eyes' photo receptors, for improved REM sleep. The Smaharty will help users to fall asleep faster and stay asleep through the night, thus helping to maximize rest for optimum health and daily activities. This new product also converts into a stylish hair accessory when on the go. In an effort to curb sleeplessness for so many insomniacs, the Smaharty Kickstarter campaign is scheduled to launch November 5, 2014.
The Smaharty's infinity 4-way reversible design means there is no front, back or sides to the sleep mask. It works in any position, and there is no right or wrong side out. The Smaharty's unique one-seam construction provides maximum durability and comfort, with no protruding seams, gouging clamps or straps that can come loose or break.
Made in America, the Smaharty is constructed with top grade wickaway lycra fabric for improved breathability compared to other natural fibers such as silk or cotton. This micro-terry backed fabric features Minerale Polyester providing optimal moisture transfer, dry time and odor absorption with excellent stretch, memory and comfort. Minerale fabric uses natural technology derived from minerals. Minerale yarn is embedded in the fibers. It will not wash off or wear out.
Inventor David Jenkins explains his motivation for developing the Smaharty, "I used to get migraines, and I'm very sensitive to light. I've tried other sleep masks, but nothing was comfortable and the bulkiness kept me awake all night. I knew that if I could just find a form-fitting, ergonomic sleep mask, it would dramatically improve my sleep."
In fact, doctors recommend, "For your best 'sleep hygiene,' keep your room as dark as possible with black-out curtains or use a sleep mask."2 Such a remedy is critical as the CDC advises that persons experiencing sleep insufficiency are also more likely to suffer from chronic diseases such as hypertension, diabetes, depression, and obesity, as well as from cancer, increased mortality, and reduced quality of life and productivity.1
Jenkins went on to explain the evolution of the Smaharty, "After creating the first Smaharty prototype for myself, I was amazed at the results as I was finally able to sleep through the night and feel completely rested in the morning. I soon discovered I was not alone in wanting better sleep. I shared the Smaharty with a few friends and family, resulting in rave reviews. Based on their positive feedback, I was inspired to put together the right creative team to produce an innovative solution to sleeplessness."
The Smaharty is great for medical professionals, military service personnel, first responders, swing shift workers, and travelers, or for any situation requiring on-demand sleep schedules or otherwise challenging conditions. Its light-weight, compact design makes it ideal for packing even in the smallest handbags or carry-ons. Keep it handy for a nap or quick hairstyle change on the go.
The Fall 2014 collection offers nine vibrant colors to complement a wide range of personal styles: Midnight Black, Blue Moon, Rêver Red, Power Nap Pink, Harvest Moon Orange, Land O' Nod Yellow, Dream Green, Space-Out Grey, and Forty Winks White. Each has a reversible black lining.
The Kickstarter campaign will help fund this new venture to make the Smaharty a reality and contribute to improved sleep for so many who crave it. Campaign support will help cover manufacturing costs, packaging and sourcing of fabrics in order to offer unique colors and textures designed to provide a better night's sleep and more productive lifestyle.
Website: smaharty.com
Kickstarter Campaign: Smaharty Kickstarter Campaign
Kickstarter Launch Date: November 5, 2014
About The Inventors:
David Jenkins is a veteran marketer, a former advertising executive and serial entrepreneur based in Portland, OR. He is the managing partner at Libba LLC, the parent company of The Smaharty. The Smaharty team is comprised of innovators, product designers and marketers who have individually designed and worked with products used by millions of people in the media and health and beauty industries. Libba LLC's other inventions include the Marie Ernst Beauty Bar, a line of Patent Pending interlocking 2-in-1 exfoliating and moisturizing soaps, and the accompanying custom-fit back-scrubber tool.
References:
1. Centers for Disease Control and Prevention (http://www.cdc.gov/features/dssleep), Jan 13, 2014
2. SLEEP: A Very Short Introduction By Dr. Steven Lockley, PhD & Russell G. Foster, BSc, PhD, FRS, 2012