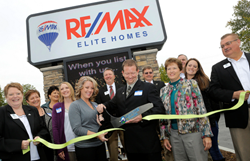 (PRWEB) October 23, 2014
RE/MAX Elite Homes held an exuberant grand opening celebration on Oct. 10 at its newly opened office, located at 1485 41st St., Moline, Ill. Broker/owner Rich Bassford and his team welcomed nearly 200 guests, including representatives of the City of Moline and the Quad Cities Chamber of Commerce.
The festivities were multifaceted and included a ceremonial ribbon cutting. Also on the program were games and a bounce house for the younger set, while adults enjoyed entertainment by the Funktastic Five, hors d'oeuvres and a selection of local brews from Bent River Brewery, along with hourly prize drawings. The famous RE/MAX Hot Air Balloon was also on hand, offering tethered balloon rides to the guests.
"It was a wonderful party and a great way to mark our arrival in Moline," said Bassford, an experienced and highly successful Quad Cities real estate professional who had long dreamt of opening his own brokerage.
RE/MAX Elite Homes welcomed guests to its all-new 2,500 square-foot facility that includes seven private offices, five work cubicles, a reception area and a café room that includes meeting space, large screen TVs and computers. It will serve as a multipurpose area where brokers can work and meet with clients.
"This is an existing building that we effectively put through a gut remodeling," Bassford explained. "Our goal was to create an office space that reflects our name – RE/MAX Elite Homes. So we've crafted an elegant interior, using top-level finishes, such as granite countertops and solid cherry woodwork throughout."
An artistic highlight of the office is the 9-by-8-foot copper waterfall with the company name that Bassford built by hand. Another special feature is a window created by a local craftsperson that spells out RE/MAX Elite Homes.
The new office is now home to four brokers and a three-person support staff, and Bassford expects the number of brokers affiliated with RE/MAX Elite Homes to grow rapidly.
"Our timing is excellent in terms of the local housing market," he noted. "We're seeing solid employment growth in the Quad Cities area, which is the key to a thriving residential real estate market. Both home prices and home sales activity have been on the upswing, and the increase in home values has been especially notable.
"What has impressed me," Bassford added, "is that 2014 has personally been my best year ever in terms of sales activity, with more than 100 sales closed so far, even while handling all the work involved with opening this new office. That says a lot about the strength of the market."
RE/MAX has been the leader in the northern Illinois real estate market since 1989. The RE/MAX Northern Illinois network, with headquarters in Elgin, Ill., consists of 2,000 sales associates and 100 individually owned and operated RE/MAX offices that provide a full range of residential and commercial brokerage services. Its mobile real estate app and http://www.illinoisproperty.com provide comprehensive information about residential and commercial property for sale in the region. The northern Illinois network is part of RE/MAX, LLC, a global real estate organization with 90,000+ sales associates in 90+ nations.