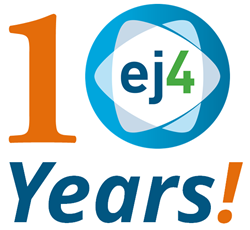 "I am proud of the company that we've become. We wouldn't have made it this far without the amazing employees and the support of our clients; some of which have been with us from Day 1."
St. Louis, MO (PRWEB) October 27, 2014
This month, ej4 proudly celebrates 10 years of continued growth and innovation. That's ten years of providing companies with the best possible eLearning and performance improvement tools, and ten years of leading the industry in content creation while creating a new and exciting learning platform, Thinkzoom.
Beginning with an idea to help companies replace ineffective and costly leader-led training with short, tactical, video-based learning, ej4 became one of the first companies to stream training courses for businesses. ej4 began the video streaming revolution by building a platform to watch and track eLearning videos at a time before YouTube even existed. The use of streaming video combined with an Instructional Design Methodology that is still the basis of their course development philosophy today has made them a pioneer in the eLearning industry.
Founder, Paul Russell, is proud of how his company has evolved. The company that started in a house basement, as a way to help Pepsi Distributors train their salespeople, is now the premier video-based eLearning provider used by companies all over the world. ej4 has created thousands of custom videos for clients, while also building a vast off-the-shelf library, which includes over 2,000 titles covering topics from Workplace Compliance, Safety, Leadership, Communication and Sales.
ej4 has continued to grow and remain profitable since their third month in business despite economic downturn. Satisfied customers from the Fortune 500 to small businesses utilize ej4's off-the-shelf and custom content services. In fact, one sporting goods retailer had its margins increase over $17,000,000 in sock sales by using ej4 to train their retail staff. Companies such as Dr Pepper Snapple Group, Pepsi, Goodwill, TigerDirect, Rio Tinto, Bimbo Bakeries USA, Merck, Pfizer, Syngenta and countless others have, and still rely on ej4's services to increase performance.
Headquartered in St. Louis, MO, ej4 also has an office in the heart of downtown Kansas City, MO. Operating in two of the fastest-growing markets for entrepreneurial and tech business, ej4 has grown to 25 employees. They are a proud member of the Mid-America GLCC, SmartConnectKC, St. Louis Entrepreneurs' Organization, and continue to work with other local Chambers of Commerce to help local business members grow.
Ryan Eudy, CEO on ej4's 10 years: "I am proud of the company that we've become. We wouldn't have made it this far without the amazing employees and the support of our clients; some of which have been with us from Day 1."
ej4 attributes its continued success to their clients, who challenged them to provide better, more concise and easy to use content. And to the employees who arise to the challenge and continue to push innovation of online learning. "ej4 has grown quickly as companies look to more modern and effective learning tools built for today's mobile technology and faster work pace," says Rick Michael, ej4 Chief Marketing Officer.
Last year, ej4 introduced their new learning platform, Thinkzoom. A platform upgrade went live on October 19th, 2014. With Thinkzoom 2.0, ej4 turned their innovative training platform into an even more accessible and engaging solution for employees to learn and administrators to manage.
As a big thank you, and to celebrate their 10-year anniversary, ej4 is offering 10% off any of their off-the-shelf eLearning content, now until November 30th, 2014. This exclusive promotion is good for any off-the-shelf content bundle. Contact us today to learn more about this offer.