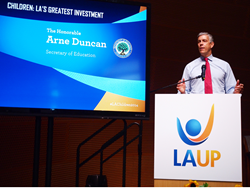 I continue to believe this is the best investment we can make in families and children…if we want to have a strong economy.
Los Angeles, California (PRWEB) October 24, 2014
On Tuesday, U.S. Secretary of Education Arne Duncan challenged California to stand up as the model of what a high-quality early child care and education system should look like.
"If this community and this state can fundamentally break through and take to scale what we know makes a difference in kids' lives, that would be amazing and the implications would be national," he said.
Speaking at the "Children: LA's Greatest Investment" forum, co-hosted by Los Angeles Universal Preschool (LAUP), Duncan said that the case has been made for the economic and social benefits of not only high-quality preschool, but the broader early care and education spectrum.
"We're talking about a 0-5 continuum here," Duncan told reporters after his keynote address at the forum. "I continue to believe this is the best investment we can make in families and children…if we want to have a strong economy," Duncan said.
The forum, held at the Walt Disney Concert Hall, brought together experts in the private and public sectors—including early care and education, business, political and academia to examine issues of quality in early learning and public policy to support early childhood education.
In the last 10 years, LAUP has increased access to high-quality preschool for more than 100,000 children. In addition, LAUP's CEO, Celia C. Ayala, said that her organization's focus has also been shifting to include raising the quality of care and learning for infants and toddlers—through initiatives such as the Race to the Top Early Learning Challenge grant, a federal grant focused on improving early learning and development programs for children 0-5 years old and close the achievement gap.
"Our early childhood education experts have been successful in coaching site directors, family childcare owners and teachers how to improve their program environment, ratios, teacher-child interactions, qualifications and more for infants, toddlers and preschoolers," Ayala said.
Deputy Assistant Secretary for Policy and Early Learning Libby Doggett, who served on one of the panels, lauded California "as helping lead the way with recent new investments in quality early learning." This year, LAUP was instrumental in advocating for a bill that state legislators passed to increase quality in early care and education. The organization also advocated for the successful passage of the Los Angeles Unified School District's resolution to invest $34 million in the district's Early Education Division.
Forum co-hosts included First 5 LA, LA Partnership for Early Childhood Investment, California Community Foundation, Los Angeles Area Chamber of Commerce and Scholastic Inc. LA n Sync was the presenting sponsor.
About LAUP
LAUP funds and raises the level of quality preschool programs throughout Los Angeles County by advancing teacher training and creating safe and nurturing environments for more than 100,000 children since its inception. LAUP is funded in part by First 5 LA. http://www.laup.net.
# # #