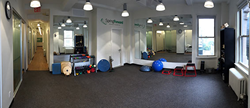 New York, New York (PRWEB) October 25, 2014
Spring Forward Physical Therapy, PC, an elite provider of physical therapy and rehabilitation in Manhattan, announced today they will be expanding to a new 2,400 SF office at 30 East 60th Street in Midtown East between Park and Madison Avenues. This new location will help spring forward with its recent surge in demand for personalized one-on-one physical therapy care.
"We are thrilled about our newly built home on 60th Street. We are growing but our boutique sensibility and attention to detail remains the same. We work tirelessly to set the bar with our style of patient care. Now we feel our office will set the bar too," said Lynn Berman, Doctor of Physical Therapy and Owner of Spring Forward PT.
The new Midtown East Physical Therapy facility has increased equipment and space for advancing patients beyond injury and into a higher level of wellness. Additionally, Spring Forward Physical Therapy will offer 4 private treatment rooms. The office is conveniently located within blocks from the 4,5,6,N,R,Q,F and E trains.
About Spring Forward Physical Therapy
Established in 2011, Spring Forward Physical Therapy specializes in providing elite one-on-one physical therapy utilizing specialized manual techniques and stabilizing exercises. Spring Forward PT believes that every injury and every patient is unique so individualized care is paramount to restoring health and wellness. Spring Forward Physical Therapy continues to work with most insurance providers.