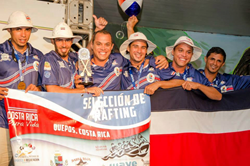 Manuel Antonio, Costa Rica (PRWEB) October 24, 2014
The PRO Rafting team from Manuel Antonio, Costa Rica, returned home Wednesday evening to a warm welcome and showing off their bronze medal. The 2014 R4 championships took place October 8-19th among the best white water rafting teams in the world representing nineteen different countries.
The journey began when for the first time ever, the Quepos Association of Rapids and Adventures worked with local white water rafting companies to host a national rafting championship event. The local companies that participated in the qualifying round provide rafting activities for the visitors to the popular vacation destination of Manuel Antonio, with rafting being one of the most popular adrenaline activities for active travelers. The Manuel Antonio team, PRO Rafting CR, won the event and became national champions.
From the end of May through October, the team prepared to compete in Brazil against the world's best rafting teams.
"Knowing how much work this team has put into their goal makes us even more proud of the outcome," comments Dave Houck, owner of Tulemar Vacation Home Rentals & Sales. "They made it all happen, and had the community's support way before they headed to Brazil."
Organizers expressed great pride in the team's accomplishment, particularly considering it is the first time the small Central American country has sent a team to compete.
"Now our medal winners will turn their attention back to preparing for the important travel season that begins in December when our North American and European guests begin to seek the sunny beaches of Costa Rica. The travelers that we host in our luxury vacation rental homes have always loved white water rafting, and I'm sure they'll be excited to go out rafting with some of the world's top guides manning the paddles," Houck concludes.