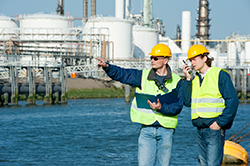 Jackson, MS (PRWEB) October 28, 2014
Keeping two-way radios in working order requires some ongoing, routine maintenance, especially in tough outdoor conditions. With that in mind, Forestry Suppliers, a leading reseller of Motorola two-way radios for outdoor professionals, releases a statement on two-way radio operation and maintenance. With these tips, outdoor workers can continue communicating safely and efficiently.
1. First priority for keeping two-way radios is storage. Especially in outdoor, dirty, or wet work sites, it's important to keep two-way radios in a dry, secure place when they aren't in use. A separate locker, lockbox, or other storage option should be used for two-way radios only, so they are not mixed with other electronics. Keeping two-way radios in a designated, secure, and dry storage space helps prevent radios from being lost, stolen, or damaged by the elements.
The manager or supervisor should also conduct inventory at the end of each day to ensure all radios have been collected. Many organizations keep up with their radios by using a Multi Unit Charger (MUC) along with numbering or naming the radios to correspond with a specific charging pocket on the MUC. If a radio is missing, this system allows managers to know which radio is missing.
2. Proper charging is essential to keeping radios working well. Radios have to be turned off before being charged. Failure to do so results in less battery life, possible damage to the radio, and can void warranties.
Workers should always be sure to use the recommended batteries and chargers specific to the make and model of their radio. Wet radios or battery packs should never be charged. Instead, they should be dry before being plugged into the wall. Radios should be removed once they are fully charged, and not left on chargers for extended periods of time.
If the radio fails to charge properly, you can clean the contacts on the bottom of the radio or the charger with a pencil eraser. In addition, make sure the correct battery is fully seated and charged before turning the radio on.
3. Next, keeping two-way radios clean is important to their continued operation. Grime, dirt, and dust can build up over time and negatively affect the radio. To begin cleaning, the radio should be powered off. Alcohol wipes or a clean soft cloth, lightly damp with water (not dripping) can be used to wipe the radio clean. Do not use cleaning products, and do not submerge the radio in water, as these methods can cause damage. When the dirt and grime is removed, the radio should be hand dried and set somewhere safe to dry further.
4. Finally, two-way radio operators should treat their equipment with proper care. Dropping, tossing, and excessive dirt and water exposure can cause a two-way radio's life to drop significantly. In addition, do not handle the radio by the earpiece or speaker microphone cord, as damage to the female jack may occur. In worst cases, a jack prong may break off in the body of the radio, rendering it inoperable. Job supervisors and staff managers should make sure their crews properly handle the equipment.
With these tips, organizations that use two-way radios for work can ensure they are getting the most life and value out of their equipment.
Online Special! Now through December 31, 2014, customers can get a free Motorola CLS-Series, RDX-Series, or RM-Series business radio or a six-bank multi-unit charger after purchasing six radios of the same series. See full details online at http://MotorolaSavings.com.
About Forestry Suppliers:
Forestry Suppliers, Inc. is a worldwide supplier and distributor of general-use and specialty products and equipment for natural resource professionals. Their annual catalog and website contain a complete selection for a wide range of outdoor industries, including forestry, agriculture, arboriculture, landscaping, horticulture, grounds maintenance, surveying, engineering, remote sensing, vegetation management, construction, home inspection, utilities, wild land firefighting, geology and mining, archaeology, anthropology, parks and recreation, golf courses, wildlife management, fisheries and aquaculture, earth science education, environmental engineering, hazmat, and remediation.
Founded in 1949 by Jim Craig, former Mississippi State Forester, Forestry Suppliers, Inc. maintains a distribution warehouse and administrative headquarters in Jackson, Mississippi. For more information about Forestry Suppliers, visit them online at http://www.forestry-suppliers.com.
Forestry Suppliers is a Motorola authorized business two-way radio reseller offering RM Series, RDX Series, CLS Series business radios, and other models. They have carried Motorola products for more than 30 years.
MOTOROLA, MOTO, MOTOROLA SOLUTIONS and the Stylized M logo are trademarks of Motorola Trademark Holdings, LLC and are used under license. All other trademarks are the property of their respective owners. © 2014 Motorola Solutions, Inc. All rights reserved.