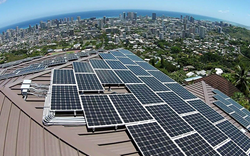 In many places, because of what is happening with utilities, off-grid solar is no longer an option, but a necessity. CEO, Andrew Duggan
San Diego, CA (PRWEB) October 24, 2014
Equal Earth, a leading renewable energy company, today announced that the company is offering customers long-term financing for off-grid solar systems, delivering affordable energy alternatives through innovative solar lease and loan programs.
Starting in Hawaii, Equal Earth is providing homeowners and businesses with financing solutions for off-grid solar systems with battery backup power. In the future, Equal Earth plans to expand its off-grid solar financing solutions to other markets, particularly those markets where utility rates are high.
"In many places, because of what's happening with the utilities, off-grid solar is no longer an option, but a necessity," stated Equal Earth Chairman, President and CEO, Andrew Duggan. "We believe that there is pent up demand for off-grid solar and we are excited to offer financing to customers," added Duggan.
Based out of Hawaii, Green Tiki Power, an Equal Earth company, will manage the off-grid installations. Green Tiki Power has been working with off-grid systems for more than a decade.
About Equal Earth
Equal Earth Corp. is a diversified clean energy solutions provider. Equal Earth offers customers easy, affordable alternative energy solutions, disrupting traditional utility markets while empowering businesses and consumers. Serving many under-served energy markets today, the company is committed to building and growing more sustainable communities by delivering clean energy solutions. For more information, visit http://www.EqualEarthCorp.com.