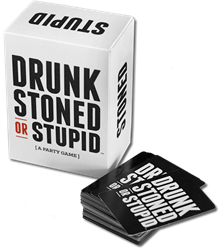 It's no secret that kids in college drink, smoke weed, and generally act stupid some percentage of the time," said Trevor Mayer. "What we bring to the table is a way to monetize this.
San Diego, CA (PRWEB) October 24, 2014
Brothers Trevor and Noah Mayer are the creators behind the just launched party card game, Drunk Stoned or Stupid.
The game has been favorably reviewed and compared to the bestselling party card game, Cards Against Humanity by DudeIWantThat.com.
Trevor Mayer, the older of the two brothers, recently graduated from Chapman University, in Orange, California with a BS in Business, while Noah is now attending the same school majoring in Creative Writing. They formed Drunk Stoned Stupid, LLC nine months ago in order to release the game.
The Mayer brothers, along with input from friends and suggestions posted by fans to their website have created a deck of 250 cards. Each round, players read one of these cards aloud and determine who in the group is most likely to:
Wake up with half a burrito in bed
Shame people for going to bed
Have a 20 ­minute conversation with Siri
Call dibs on people at a party
Be a total brand whore
Noah Mayer, speaking from the Drunk Stoned Stupid, LLC "worldwide" headquarters in San Diego, California, explained how the idea for the game came about. "All of my friends love to share stories of the stupid things we have done — whether from last night, or a year ago. That's where the idea for Drunk Stoned or Stupid came from — why not make this into a game?"
"This game spares no detail," adds Noah. "After just a round or two, you're going to know way more about your friends than you may have wanted to."
Drunk Stoned or Stupid is currently seeking crowdfunding on Kickstarter where it's off to a strong start.