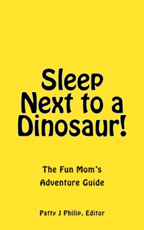 Valencia, CA (PRWEB) October 29, 2014
Editor Patty J Philip of Grab Your Hat Enterprises LLC announces the first of a series of adventure guides that help moms (and dads) transform learning into fun things for kids to do, adventures where kids can work their minds and have fun at the same time.
Sleep Next to a Dinosaur - The Fun Mom's Adventure Guide "brings learning to life with fun hands-on activities to ignite children's curiosity, imagination, creativity, enthusiasm, and laughter." The book encourages moms to "help kids dig deeper, learn more, and share the excitement of their discoveries."
In a world over-saturated with information it can be hard for parents to sift through endless websites for ideas about activities to do with their kids. Sleep Next to a Dinosaur shows moms where to introduce children to activities that can turn into sustainable interests and a real passion for learning; fun things to do with kids that at the same time fosters a relationship with mom as a co-participant rather than just a supervisor.
Opportunities to learn are everywhere; the backyard, the neighborhood, hometown, or on the road. The book offers fun ideas for kids where they can investigate the world around them, develop a vitalizing sense of community everywhere they go, and experience shared discoveries.
The fun really starts when kids find out about talking tails, chocolate trees, fire museums, fossil digs, wolf howls, rockets, ziplines, microbats, torpedoes, flight simulators, space exploration, mummy meets, and racing robots.
Add waggle dances, exoplanets and wormholes, living clocks, flashlight adventures, dinosaur overnights, how to design money, become a time traveler, and other cool stuff. The various websites that are included are places where kids can further stretch their minds.
Adventures that involve art and performance art, history, science and technology, or a connection with different cultures enrich children with involvement in the wonder and potential of the human experience. Kids want to learn as much as possible about everything around them. In Sleep Next to a Dinosaur there is no agenda. With mom as their partner, kids explore, have fun, and learn at their own pace.
About Grab Your Hat Enterprises LLC
Patty J Philip spent 21 years in the travel industry, was architect of creative child workshops interactive programs for kids, is a mom, founder and chief adventure sleuth at Grab Your Hat. Patty and her team wish to inspire parents to become a link between their child and an adventure of hands-on learning.
Sleep Next to a Dinosaur is now available in print and Kindle eBook. More information is available at http://www.learnforthefunofit.com.