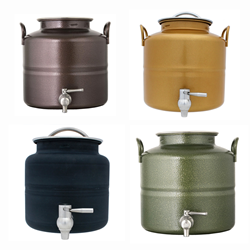 "When you add the beauty of these containers, and the selection of color options, it's a product that is quite exceptional."
(PRWEB) October 24, 2014
Italian food specialist, Gourmet Italian, is proud to announce the addition of Aginox Fusti liquid storage containers to their inventory. The products are available in original silver stainless steel, as well as a variety of color options. The containers are an increasingly popular import, loved by budding home chefs and commercial kitchens, and are critical for proper storage of edible liquids purchased in bulk. A wide selection of Aginox fusti products can be found at the Gourmet Italian food store.
Fusti stainless steel containers are specifically designed for safe long-term storage of food-grade liquids such as vinegar, alcohol, oils, honey, water, and more. After storage, contents are safely released by spigot; this prevents the contamination that typically results from repeatedly opening and closing unsealed containers.
However, consumers should be aware there are cheap imitations on the market. Avoid fustis made from low-quality stainless steel, or product designs where the metal was "folded" resulting in seams in the interior of the container. Seams can grab and retain particles, leading to unsafe bacteria growth and can also cause the contents to become rancid.
Aginox fusti containers are made in Italy by Aginos ,out of high-quality AISI 304 stainless steel. The design avoids the use of any interior seams, resulting in a product that is safe for long-term liquid storage.
The addition of coordinating color options for kitchens is also a bonus. "Fusti containers are popular for a reason—there is simply nothing as convenient and safe as a fusti. Barrels are awkward and plastic wears out over time, but well-made fustis protect your investment," says Gourmet Italian. "When you add the beauty of these containers, and the selection of color options, it's a product that is quite exceptional."
Gourmet Italian stocks Aginox fusti containers in sizes ranging from 2.5 liters to 50 liters. Stainless steel colors include gold, green, brown, and silver, as well as a dark ceramic finish.
Aginox fustis can be purchased on the Gourmet Italian food website. Additional information on fusti storage is also available.
Wholesale Food Network LLC operates out of Youngstown, Ohio, and has been doing business under the "Gourmet Italian" name since January 2009. For more information on any of their products, please visit the Gourmet Italian food store website.