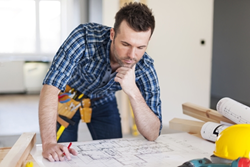 Understand how a contractor will get in touch with you regarding decisions and unexpected issues.
Chicago, IL (PRWEB) November 11, 2014
When hiring a contractor, one wants to ensure they get the right professional for the job that will complete the work on schedule and give the best value for their money. The Federal Savings Bank, a Midwest based mortgage lender, offers some tips to what questions one should be asked during the contractor selection process.
Whether a first-time home buyer investing in a fixer-upper to save money or planning to flip a house, one does want or need a contractor who doesn't have best interests in mind. Delays to a project can cost more money and present issues if one does not have anywhere to live while the professionals finish working on your home.
Ask contractors these seven questions to determine whether they are right for the project:
Do you have references? Reputable contractors have a list of previous clients who can vouch for their skills and services. Request this list and contact one or two past clients.
Ask what's their experience in this community? Local contractors have a good relationship in the area, with both clients and suppliers. This can work to ones advantage in reducing costs.
Ask how many similar projects they have completed recently? If a contractor being considered for a new deck has only been working on roofing projects for the past five years, one needs other options.
Ask if they are licensed for this type of project? Request a copy of a contractor's license as another means of verifying his or her credibility.
Ask if there will be subcontractors? A general contractor can take on additional risk with subcontractors. Find out if the general contractor has worked with them before and if they are going to be on the project.
Ask if the contractor has insurance? In the event of a worker injurt on your property, a contractor's liability coverage should ensure they foot the bill. The same goes for subcontractors.
Ask how, and how often will the contractor communicate? Understand how a contractor will get in touch with you regarding decisions and unexpected issues. Unresponsive professionals can be a hassle.
For information about financing for a fixer-upper, contact The Federal Savings Bank, a veteran owned bank.