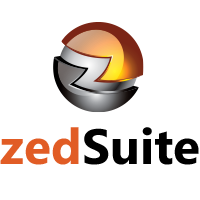 When customers are able to view data in their spoken language, and conduct business in a currency they are familiar with, you break down boundaries between a business and their customers.
SAN FRANCISCO, CA (PRWEB) October 24, 2014
zedSuite, a leading SAP software solution and technology partner, today announced the release of the highly anticipated zed Customer Portal 7.0 for SAP Business One®. The latest version helps solve the challenges facing enterprises that conduct business on a global scale, or are expanding internationally to offer products and services in new markets. Available for the SAP Business One application (version 8.8 and 9.0) starting today, the new zed Customer Portal 7.0 release features the ability to handle foreign currencies and deploy a multilingual customer interface connected to SAP Business One. In conjunction with the zed Customer Portal, zedSuite is offering the Order Pad Add-On, an easy, convenient, one-click shopping experience for added customer convenience. The new zed Customer Portal and Order Pad add-on helps companies reach more customers in more countries around the world than ever before.
zed Customer Portal for SAP Business One is a secure and customizable self-service gateway designed to empower customers to manage their account information through any standard Web browser. With this latest release, zedSuite builds upon zed Customer Portal's ability to access information from SAP Business One in real time.
Scott McMahon, Vice President zedSuite, stated, "With zed Customer Portal Version 7.0, customers are empowered to strengthen customer relationships by providing more value-added services. When customers are able to view data in their spoken language, and conduct business in a currency they are familiar with, you break down boundaries between a business and their customers. Not only does this result in a better overall customer experience, but also opens up new growth opportunities in global markets."
In addition to new zed Customer Portal 7.0 features, the portal offers customers a host of other essential features: secure access protects customers' identity with data encryption; real-time integration with SAP Business One helps ensure that transactions are up-to-date; online payments streamline processes and reduce transaction fees; and customization enables businesses to easily build a branded front-end site for users. zedSuite's Order Pad add-on facilitates purchases by empowering customers to manage their orders with real-time access to place orders and check order status.
A long-standing and top-selling product for customers running SAP Business One, zedSuite's Customer Portal product meets the needs of fast-growing businesses that need to deliver a superior customer experience each and every time. In today's competitive market, companies need to find easy ways to leverage the investment they have made in SAP Business One to create customer loyalty. "zed Customer Portal continues to be a flagship solution for businesses running SAP Business One. It is a gateway to connect customers with SAP Business One and provide customer self-service worldwide," continued McMahon. "And with new features such as multi-currency and multi-language support, it's also a gateway for businesses to easily move their business into new global markets."
For a full list of features in zed Customer Portal Version 7.0 for SAP Business One, visit http://www.zedsuite.com/products/customer-portal.
About zedSuite
zedSuite (http://www.zedSuite.com) is a premier Web integration provider for extending the capabilities of SAP Business One beyond the walls of small to midsize enterprises, worldwide. Providing the right level of solution integration and customization to suit each customer, zedSuite empowers growing businesses to be innovative in providing the best value they can to their own customers, employees and stakeholders through SAP Business One and web technology.
Named the 2013 SAP Business One – Regional Software Solution Partner of the Year for North America, zedSuite delivers on the promise that technology can be brought to growing businesses through a suite of web solutions that build on the flexible foundation of SAP Business One to open up the web as a business channel and provide a dynamic self-service experience for users. Employing a world-class team of business and technology experts, the zedSuite consultative approach helps ensure solution alignment with the goals and business processes of each customer through implementation to support.
zedSuite Inc. is a member of the Group zed family of companies. With roots dating to 1992, Group zed (http://www.gzed.com) is a privately owned and operated corporation, which provides its family of industry-leading companies with the strategic vision and tools to deliver on the promise of technology to customers, setting them apart from other industry peers.
###
SAP, SAP Business One and other SAP products and services mentioned herein as well as their respective logos are trademarks or registered trademarks of SAP SE (or an SAP affiliate company) in Germany and other countries. See http://www.sap.com/corporate-en/legal/copyright/index.epx for additional trademark information and notices. All other product and service names mentioned are the trademarks of their respective companies.
MEDIA CONTACT: Sarah Coish +1 (949) 420-3000, sarah(dot)coish(at)gzed(dot)com