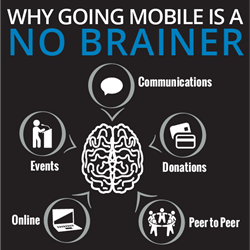 It is inevitable that all organizations will soon recognize their need for a mobile solution
(PRWEB) October 28, 2014
MobileCause, a leading mobile, social and online fundraising solutions provider, is challenging all US nonprofit organizations to implement a mobile strategy this year to gain new donors, increase recurring gifts, and engage supporters. MobileCause recently released its newest fundraising eBook, Why Going Mobile is a No Brainer, which displays five easy ways organizations can increase donations while saving time.
Donors use mobile phones for talking, texting, emailing, watching videos, looking at pictures, searching the web, making purchases, and interacting on social media. Most people have their mobile phone within reach 24 hours a day, 7 days a week, 365 days a year.
"It is inevitable that all organizations will soon recognize their need for a mobile solution."
– Carlos Morales, MobileCause VP of Product
For the price of a friends and family cell phone plan, organizations can gain access to powerful mobile fundraising and communication solutions that support:

Mobile Communications
Text Donations
Online Donations
Peer to Peer Fundraising
Event Fundraising
Mobile communications are the most effective way to communicate with donors at large. Organizations build their database of mobile numbers with subscription keywords and web forms. Similarly, text messages with links allow individuals to donate quickly with a credit/debit card. Additionally, mobile responsive online donation forms are the easiest way to setup recurring gifts.
Peer to peer fundraising allows organizations to raise funds from staff and volunteer networks. Individuals can set up fundraising pages from the convenience of a smartphone in minutes. These pages are designed to capture donations over text, email and social media.
Events are strengthened with real-time donation recognition. Organizations can see who has given, how much has been raised, and how many donors have been acquired. Attendees are inspired by interactivity and the excitement in the room to make the donations needed to reach the goal.
"Every charity, church, hospital, school and nonprofit organization that desires to strengthen fundraising and reach a new generation of donors should go mobile this year."
– Jeremy Koenig, MobileCause Director of Marketing
About MobileCause
MobileCause is a cloud-based platform designed to help organizations gain new donors, increase recurring gifts and engage supporters. Subscriptions strengthen fundraising and communication across mobile, social and online channels. Solutions include peer to peer fundraising, comprehensive online giving, dynamic event fundraising, text to donate keywords, mobile marketing engagement and smart data records. Organizations can be up and running in one day with no technical skills required.
To learn more about MobileCause solutions, please download our eBook at
https://www.mobilecause.com/download-ebook-why-mobile-is-a-no-brainer/