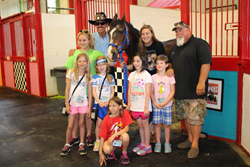 In the past ten years, Victory Junction has changed the lives of more than 20,000 children and their families from all 50 states and foreign countries - with no cost to families.
Ventura, California (PRWEB) October 27, 2014
Join Duck Commander's John Godwin to raise money for kids in need with Zach's Wax and the Victory Junction charity partnership.
Zach's Wax, the family-run purveyor of flair for your hair, is excited to announce the launch of their latest philanthropic endeavor focused on helping Victory Junction. At Victory Junction, they believe that every child, no matter their illness or diagnosis, should be able to have fun and be a kid! So, they provide life-changing experiences for children with serious illnesses or medical conditions that are empowering, exciting and safe; all at no cost to the campers and their families. For the next month, Zach's Wax will be donating five dollars from each sale of their Race Car Blue Extreme Color Gel and all of the Color Gel products to help make these kids' dreams come true.
With the assistance of Duck Commander's John Godwin, Zach's Wax is spreading the word about this empowering charity and its ability to provide children with medical challenges with outdoor adventures and memories that were previously out of reach. In the past ten years, Victory Junction has changed the lives of more than 20,000 children and their families from all 50 states as well as several foreign countries. Best of all, all of this fun comes at no cost to the family thanks to the donations of others and the countless selfless volunteers and hospital partners who pledge their time--which is where Zach's Wax is pitching in.
As a company built around the importance of family, they're honored to be able to give back to a charity that mirrors their mentality. Their line of salon ready hair products were developed as a way to bring business home and teach their kids that it can be fun to run one's own business and make a difference in the world. Their Extreme Color Gel offers young and old vibrant, temporary, and fashionable staying power for the hairstyles they love. With their current promotion, they're offering folks a chance to try out a brand new look while bringing some color and fun to the lives of others.
For samples or additional information, please visit http://www.zachswax.com or contact Leah(at)chicblvd(dot)com.
Contact:
Leah Cybulski
ChicExecs PR
http://www.chicexecs.com
1487 Poinsettia Ave. Ste. 125
Vista, CA 92081
708.426.8730
ChicExecs PR is an "out of the box" PR company, which represents over 100 clients. ChicExecs has created an innovative approach to PR dedicated to helping small-medium businesses receive media coverage. Our revolutionary automated system is changing the face of PR. To learn more about ChicExecs visit http://www.chicexecs.com.