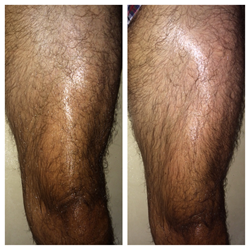 The Fascia Blaster makes my legs function better, period. I can feel a difference in just one use.Dee Gordon, MLB All-Star
Manhattan Beach, California (PRWEB) October 28, 2014
In hundreds of case studies and with measurable statistics, the FasciaBlaster results in dramatic changes to muscle activity. Black explains that it is very exciting that EMG (an instrument that measures muscle firing activity) use is showing muscles can fire harder without the use of steroids. Working with some of professional sport's biggest names during Black's 15+ year career has revealed the lack of attention to fascia, despite her access to virtually every type of treatment and training protocol at the highest level. For years, she has pioneered techniques and tools for addressing this barely known system of the body. Black says, "The key to muscle output is full blood flow, nerve activity and a totally unrestricted muscle. The way to achieve this is through opening the fascia, before attempting strength training." The EMG data supports this need for open fascia, and reports a staggering 200% increase in muscle activity of major muscles palpated by the FasciaBlaster ™. MLB All- Star Dee Gordon, known as the fastest man in baseball agrees. Gordon says "The FasciaBlaster ™ makes my legs function better, period. I can feel a difference in just one use". Now clinical data is supporting the claims that her FasciaBlaster ™ helps athletes perform at a higher level.
Fascia, which is commonly known as connective tissue, is the head-to-toe, hand-to-hand, inside-to-out web of the body. When eating meat, one can see the thick membrane, like inside chicken skin, or the cobweb-like material between the fibers of the meat. This is animal fascia. Humans have fascia in every nook and cranny of their bodies. So to understand sports performance as it relates specifically to getting the most out of a muscle contraction, one must understand the anatomy and physiology of fascia. Tight fascia, restricts blood flow, limits nerve activity and shortens contractions. Tiger Woods describes his experience with tight fascia in a Golf Channel article explaining that "The fascia gets tight and starts pulling on different parts of the body and it's like cellophane; that's what fascia is. It starts pulling on certain parts and next thing you know, things start shutting down." Black seconds Wood's sentiments and says that "tight fascia can completely shut down a muscle or a group of muscles. On the flip side, functional fascia allows muscles to work as they should independently and as part of a chain for maximum performance".
Tiger Woods is one of many top athletes to acknowledge the role of fascia in both injury and sports performance. Black explains "15 years ago, no one had ever heard of fascia, and I am thrilled that pro athletes and teams are now in the boat. I am also glad that I am ahead of the curve, because engineering, prototyping and manufacturing the FasciaBlaster ™ has taken many years." Now that the world has caught up, Black is waiting in the wings to help solve this problem with her invention that can be used virtually anywhere.
You do not have to be a professional athlete to use the FasciaBlaster ™ or benefit from healthy fascia. The FasciaBlaster ™ is a hand held tool that is scrubbed across bare skin briskly with massage oil. It can be used on one's self or a trainer or therapist can use it on their client. The Arizona Diamond Back's head trainer Ken Crenshaw says that." Black is ecstatic that so many athletes and teams are benefiting from the FasciaBlaster ™, but "what really excites me is that Moms, Crossfitters, body builders, weekend warriors, and people in pain can take their fascial health into their own hands. That, I am very proud of". Black says that more research is needed, but the initial findings are encouraging and the anecdotal testimonies are beyond her expectations.