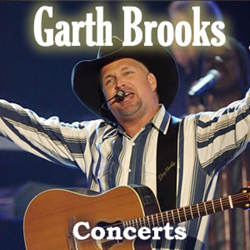 Garth Brooks tickets for his shows at the Joe Louis Arena in Detroit become available for the public to buy today. Tickets for all Garth Brook shows including Buffalo, Boston, Tulsa and Pittsburgh remain available, at GarthBrooksconcerts.com
Detroit, MI (PRWEB) December 19, 2014
The long anticipated return of Garth Brooks arrives! Garth Brooks comes to Detroit, MI February 27 and 28 for shows at the Joe Louis Arena. So far, only 2 Detroit shows have been announced, but if past history is any indication, more shows could very likely be added this morning. Last week tickets released for Garth's Pittsburgh shows, initially with 3 shows, now six shows, are scheduled for February 5, 6, 7 and 8. Likewise, Garth Brooks performs six shows at TD Garden in Boston January 22-25. Additionally, Brooks holds seven concerts at the BOK Center in Tulsa, January 9-17, with six concerts at The First Niagara Center in Buffalo March 5, 6, 7 and 8. All concert dates at these other venues began with fewer scheduled performances as well. Tickets to these events are expected to sell out fast. Last minute Garth Brooks tickets for all shows remain available at GarthBrooksConcerts.com online.
The most successful country musician of all-time, Garth Brooks has sold in excess of 100 million albums worldwide, figures that rival those of Elvis Presley. Rising to fame with his self-titled album in 1989, Brooks followed up with a series of multi-platinum records including "No Fences," and "Ropin' the Wind." Playing in stadiums packed to capacity with fanatical fans, his '90s concerts earned legendary status for their dynamic sound and energy. Brooks announced his retirement from touring in 2000, spending the larger part of the following decade out of the public eye. Slowly re-emerging into the spotlight, Brooks now returns with a grand world tour. Country music fans should not miss the opportunity to see him perform a selection of his greatest hits, like "The Dance," "If Tomorrow Never Comes," "Friends in Low Places," and "The Thunder Rolls."
In addition to Garth Brooks, the Joe Louis Arena hosts Detroit Red Wings home games and other exciting events like Monster Jam.
.
Music fans in the Detroit area can look for One Direction and Taylor Swift in addition to Kenny Chesney concerts at nearby Ford Field in 2015. At the nearby Palace Of Auburn Hills, north of Detroit, look for concerts by Iggy Azalea, Bette Midler, Neil Diamond and 5 Seconds Of Summer.
Tickets for any of these concerts and others can be purchased using the E-Ticket option that allows fans to print a ticket right from their computer. The printed tickets and computer systems at the arenas hosting Garth Brooks concerts make using the tickets printed at home easy. With the 125% ticket guarantee of authenticity and guaranteed admission to the Garth Brooks concert, fans need not be concerned about an E-ticket.
GarthBrooksconcerts.com and TicketsCheapest.com operate in the ticket resale market, similar to sites concert fans may be familiar with, including Stubhub. Try TicketsCheapest.com for other hard to get tickets like MLB, NFL, NBA, NHL and all major events in addition to popular concerts.
Find the right Garth Brooks tickets online or by phone at 855 805 5266 for professional personal assistance.
About Financial Firebird, Garth Brooks Concerts, and Tickets Cheapest
The site to buy tickets for Garth Brooks Concerts, Cheap Tickets online and its sister sites, including GarthBrooksconcerts.com and a site to purchase Tickets for Broadway or tickets for Broadway tours, all geared for the consumers looking for low prices, are affiliated with the Financial Firebird Corporation Travel Group.
Financial Firebird Corporation, established in 2000 and a proud BBB member, provides unbiased consumer information, software and marketing services. These sites to buy tickets online operate in the resale market and maintain no relationship with the venues or performers. The resale ticket market allows consumers access to popular events once the box office has sold out or to buy premium seats when the venue no longer offers any inventory. Within the group of these secondary market ticket services, the Financial Firebird owned ticket sites offer lower prices than competitors. Find the sites at GarthBrooksconcerts.com and TicketsCheapest.com, where they welcome music fans to engage in their own comparisons to prove which resale site offers the cheapest concert tickets online.