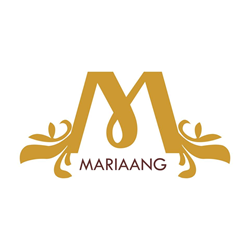 The Mariaang brand is a perfect example of daughter/mother teamwork."
(PRWEB) October 24, 2014
Maria Angelica Padilla Julio (affectionately known as the "Little Fashion Designer") now has her own registered brand, Mariaang (http://www.mariaang.com), along with a growing following on Facebook and Twitter, as well as YouTube views, where she has posted several tutorials.
Columbian-born Maria Angelica Padilla Julio has been designing since she was a young girl, using materials such as paper napkins, aluminum foil, balloons, duct tape –- whatever she could find and put together using her vivid imagination. This year, when the family moved to Germany, mom Lida Julio found one of her daughter's designs stashed in boxes. This design became the basis for her Bridal 2014 collection. Her mom posted the pictures on Facebook an Bridal 2014 was an instant hit. After getting 100 likes and shares quickly, the idea for a formal brand was born. Maria Angelica asked her mother for help in creating a logo and launching the brand. Lida Julio was delighted to help her daughter bring her Barbie fashion creations to the world.
Explains Julio: "I am my daughter's biggest fan. But I believe all children need recognition of their talents. Parents need only pay a little attention to what their children are doing. How many people have a budding artist in their house but the parents are so focused on the child's need to finish school, go to university and get a salaried job in a nice company that they overlook their child's creative talents?"
An important part of the brand launch has been the Mariaang YouTube channel https://www.youtube.com/user/supermariaang. Here, The Little Designer shares step-by-step how to replicate many of her unusual Barbie looks using household materials, as well as how to care for Barbie. (One tutorial explains how to recondition Barbie's hair). Tutorials are in Spanish.
Today the Little Designer also has her own sewing machine and several collections posted on Facebook. https://www.facebook.com/supermariaang/photos_stream?tab=photos_albums.
She has a wide range of design influences including Rosa Clará (Spain), Vera Wang (US), Beatriz Camacho (Colombia), Burberry (UK) and Edna Mode (a character in "The Incredibles" movie). One day soon she hopes to become an haute couture designer like her idols.
Concludes the elder Julio: "Anton Ego in 'Ratatouille' said it well: 'Not everyone can become a great artist, but a great artist can come from anywhere.' I encourage parents to notice and do everything they can to bring out their children's artistic side."