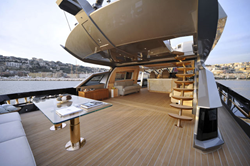 (PRWEB) October 25, 2014
MillionaireMatch.com, a site dedicated to wealthy men and women singles, recently asked its members to provide information on their likes and pastimes. As it turns out, the millionaires on MillionaireMatch.com are as fond of their yachts as other millionaires around the world. In fact, yachting is one of the most popular and relaxing hobbies according to its members. Comments can be found at http://www.millionairematch.com/luxuries_show?pic_type=4.
The yachting hobby isn't a recent fad either. Many members have used their yachts for years, and enjoy spending money to improve them (or purchase entirely new upgraded versions). These pleasure boats are usually docked in the warm Caribbean or Florida's Atlantic coast—although many others remain in European docks during some parts of the year.
Site members aren't committed to a single kind of yacht. Some prefer sailing yachts and Gulet yachts (a kind of yacht with Turkish origins). Others enjoy a relaxing day on open yachts with large, multi-layer decks and copious amounts of space inside for bedrooms and living quarters. And while they're rare, a few very wealthy individuals enjoy a form of motorized super yacht that can reach over 70 meters in length.
MillionaireMatch.com's members include spotlight stars that have a long history of yachting. Matthew Perry is a member of the Isle of Man Yacht Club. And Charlie Sheen is fond of chartering the luxury yacht Arianna from time to time. Fame, however, isn't a requirement to own such yachts, and many other members will either charter them out or purchase them outright depending on their means.
MillionaireMatch.com has been the premier dating site for successful singles and affluent singles for nearly 15 years. It was founded in 2001 and continues to offer dating assistance as well as advice and tips. For those interested in becoming members of the site, or if you would like more information, please visit http://www.millionairematch.com to learn more.