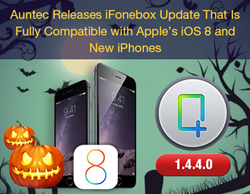 "The releasing of latest version of iFonebox shows both our humble attitude and strong determination to serving and guarding iPhone users and also our ambition to be the best iPhone software supplier in the market,"
London (PRWEB UK) 27 October 2014
Auntec, an innovative software company based in China, announces the latest update of its data recovery tool,iFonebox. As Apple has recently released the iOS 8 mobile operating system and the iPhone 6 and iPhone 6 Plus, many Apple users will either update to the latest iOS version and/or purchase the new generation iPhone. They will lose data during the update and daily use. The iFonebox 1.4.4.0 update will alleviate this problem for iPhone users as it is now fully compatible with the iOS 8 software and supports the iPhone 6 and iPhone 6 Plus.
With this update, users of iOS 8 or the new iPhones, will now be able to enjoy the full functionality of the professional iOS data recovery tool. Users of iOS 8 and iPhone 6 and 6 Plus will be able to recover important data, such as contacts, text messages, call history, notes, calendar, reminders, and Safari bookmarks when scanning directly from the device. Specifically, deleted contacts and notes can be recovered and transferred back to the iOS device, either from a direct scan of the device or from an iTunes backup.
Users can also retrieve 11 types of data from iTunes backup for iOS devices, and extract encrypted iTunes backup data. Along with full compatibility with iOS 8 and support to both of the new iPhones, this update has also fixed some known bugs.
"The releasing of iOS 8 and latest iPhone has been a hot topic recently. As a leading mobile app high tech company, Auntec of course will not ignore the huge market brought by meeting iPhone user requirements. The releasing of latest version of iFonebox shows both our humble attitude and strong determination to serving and guarding iPhone users and also our ambition to be the best iPhone software supplier in the market," said by Dancy Wang, the customer-service manager.
This update gives iOS device users the confidence in knowing that their data is protected. iFonebox works with Windows XP, 2003, Vista, Windows 7, Windows 8, and Windows 8.1. For users of Apple products, the software supports iPhone 6/6 Plus/5S/5C/5/4S/4/3GS, iPad Air/Mini/4/3 (New iPad)/2/1 and iPod Touch 5/4 and iOS 5/6/7/8. The software nearly supports all iOS devices so users are able to backup and restore their data.
Enjoy 2014 Halloween with iFonebox.
About Auntec
Auntec is an innovative software company founded in 2010 dedicated to delivering the best software products and services for digital camera and mobile devices running on both PC and Mac. It has a whole suite of digital software including video tools, Flash video tools, iPhone tools and camcorder tools.
Auntec has a professional technology team as well as superior customer service. It helps customers throughout the world to solve digital problems and enjoy their digital life.