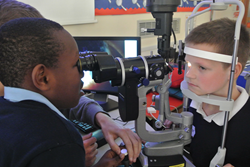 It was a delight to witness such enthusiasm and interest. The students were fully engaged throughout all areas of the programme, with lots of questions being asked.
Harlow, Essex (PRWEB UK) 24 October 2014
Haag-Streit UK (HS-UK), the leading manufacturer and distributor of gold-standard optometry and ophthalmic equipment, has recently participated in the Primary FOCUS programme event, held by educational charity IntoUniversity at their Nottingham West centre.
IntoUniversity is a charity that provides learning centres within disadvantaged communities to help support primary and secondary school pupils with literacy, numeracy, exams, homework and even career advice. Working in partnership with The University of Nottingham, they have established three education centres throughout the city.
This year IntoUniversity has worked in close partnership with members of The University of Nottingham to provide exciting opportunities for Year 6 students from Brocklewood Primary School as part of the charity's Primary FOCUS programme. The staff who presented the activities were Dr Andrew Astle, Dr Zahra Hussain and Dr Jonathan Dennis, from the Visual Neuroscience Group at The University of Nottingham.
The Primary FOCUS programme is designed to enhance the school's curriculum and give students access to equipment and resources that they may not be able to access normally. With the school's chosen theme being 'The Eye & Light', HS-UK worked in collaboration with those members from the Visual Neuroscience Group, in hope of bettering the students' educational opportunities.
Dr Andrew Astle said, "We thoroughly enjoyed exploring vision with the students and supporting the IntoUniversity scheme. Through demonstrations, the children got a chance to learn about exciting aspects of vision, from the properties of light and the structure of different animal eyes, through to the important role that our brains play in shaping what we see of the world around us."
HS-UK, Product Manager, Jacqui Kenyon attended the event with a BQ900 slit lamp with IM900 imaging module and a DRS retinal fundus camera. This provided the students with the opportunity to examine and explore the anatomy of the human eye.
Jacqui said, "It was a delight to witness such enthusiasm and interest. The students were fully engaged throughout all areas of the programme, with lots of questions being asked."
Jacqui continued, "Students were given the opportunity to examine each other's eyes using the BQ900 imaging slit lamp and a DRS retinal camera, allowing them to view both outer and inner structures of the eye which, in turn, generated both interest and excitement. It was a pleasure to be invited to be part of the Primary FOCUS Programme."
### Ends ###
For news media enquiries, please contact:
Emily Byham
Marketing Co-ordinator
Email: ebyham(at)haag-streit-uk(dot)com
DDI: 01279 456260
Mobile: 07900 828709
About Haag-Streit UK
Haag-Streit UK sells a complete line of optometry and ophthalmic equipment and has distributorships for some leading brands, such as; Haag-Streit International, Ellex and CenterVue and Haag-Streit Surgical (formerly Möller-Wedel).
A former division of Clement Clarke International Limited, Haag-Streit UK has evolved since 1917 from a dispensing optician with one branch in London, to a manufacturing company which has designed and manufactured products such as the Perkins tonometer and Synoptophore.
These brands are marketed directly within the UK and through a network of distribution partners in more than 60 countries.
In 1989 Clement Clarke became part of the Swiss-based Haag-Streit Group and in 2001 began trading under the name Haag-Streit UK.
Haag-Streit UK promotes prevention, early detection, careful monitoring and effective treatment of retinal disease, glaucoma, corneal disorders, ocular motility and visual defects.
The organisation is dedicated to providing tailored solutions through the integration of information technology, leading brand ophthalmic instruments and unparalleled customer care. It focuses on the individual requirements of both the professional and the patient.
For additional information about Haag-Streit UK and its product portfolio, please visit http://www.haagstreituk.com.