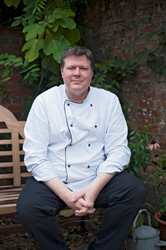 (PRWEB UK) 27 October 2014
The Hampshire based award winning hotel is excited to announce the appointment of its new Executive Chef Paul Peters, who has high aspirations for the re-development of the fine dining Manor Restaurant.
Paul's modern European style of cooking fuses modern techniques with classical training.
"I like to use local ingredients in a worldly way reinterpreting a dish to take advantage of the local area's rich natural resources".
Prior to his appointment at Careys Manor Paul was Executive Head Chef at a number of three AA Rosette restaurants and at four and five star hotels in London.
These include the Jaan Restaurant at the Swissotel, The Howard and 'Mju' Restaurant at The Millennium in Knightsbridge and the Mary Green Manor Hotel in Brentwood, Essex.
His was most recently the creative force behind the Black Swan in North Yorkshire giving seasonal, Yorkshire produce a modern and exciting twist.
Australian-born, Paul is a driven and ambitious family-man who began his culinary journey whilst growing up in Sydney.
His father had been a chef in the army and from the age of 9, Paul fondly remembers helping his Mum cook and enjoying barbeques full of delicious seafood with family and friends.
Having bought a copy of Nico Ladenis' book Paul made plans to develop his career in the UK; arriving in January 2000 to spend five months as a Junior Sous Chef at the Lygon Arms in Broadway.
He went on to work with Nico Ladenis himself at Chez Nico and John Burton-Race at The Landmark Hotel in London and Marco Pierre White at the Hampstead Brasserie, 'MPW London'.
Speaking of his passion for food and his move to Careys Manor , Paul states,
"I firmly believe that if you love food it will love you back. I've built my career on loving what I do. Coming to work every day is not a chore, it's fulfilling my passion for food.
"I'm really excited about my move to Careys Manor Hotel and being involved in the re-development of the Manor Restaurant. I'm working on designing a new menu concept centered on my passion for local, seasonal and ethical produce.
"It will be a gastronomic tour of Hampshire, not just in terms of taste, but a complete dining experience, delighting all the senses".
The opening of the new restaurant is planned for winter 2015 but guests are already being wowed by Paul's dishes.
One of Paul's favourite ingredients is scallops, which he combines with cauliflower to produce one of his signature dishes of 'Seared Scallops with Caramelised Cauliflower Florets, Hazelnut Dressing and Sherry Vinegar'.
We would love to welcome guests along to the Manor Restaurant to try Paul's dishes for themselves. Our Dinner, Bed and Breakfast package starts from £104.50 per person.
For more information visit http://www.careysmanor.com or contact Careys Manor Hotel and SenSpa on 01590 624467