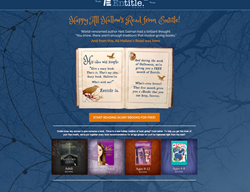 We are pleased to promote a growing Halloween tradition to encourage reading
Wilmington, NC (PRWEB) October 24, 2014
Encouraging people across the globe to experience a Halloween horror story from some of the world's master storytellers, Entitle Books, with support from top publishing houses, are encouraging people to give a literary thrill to family and friends as part of All Hallows Read.
As part of the initiative, Entitle Books, a fast-growing eBook subscription service, is offering one month free where everyone who signs up can download two free books as a way to get reading. Best yet and unlike any other eBook subscription service, Entitle Books allows its users to own every book they download so that even after their subscription ends, they can still read their books.
Conceived by author Neil Gaiman, All Hallows Read encourages people of all ages to give someone a scary book to read while enjoying their Halloween treats. To help people find the perfect book for that special ghoul or goblin, Entitle Books has created a special Halloween web page where folks can go through a specially created list of books for every age group from today's top authors.
From best-sellers like Stephen King's Pet Sematary and cult classics like Neil Gaiman's American Gods, to thrilling young adult series and spooky books for early readers, the all-inclusive Halloween reading list is the perfect starting point for great books.
"We are pleased to join with top publishers and specialty houses in promoting a growing Halloween tradition to encourage reading," said Bryan Batten, Founder and CEO of Entitle Books. "As part of the holiday, we will be featuring a list of spooky and thrilling reads for all age groups, as well as offering potential subscribers a free month where they can download and keep two free books."
About Entitle Books
Based in Wilmington, NC, Entitle Books is a fast-growing monthly eBook subscription service that lets book lovers read more for less, allowing members to download 2 eBooks a month for only $9.99 – a savings of up to 75%. Unlike competitive eBook subscription services, Entitle Books' subscribers own the eBooks they download every month. This allows its members to read at their own pace without feeling pressured by time to ensure they get their money's worth of their subscription. It also allows them to read their selections after their subscription expires. Entitle Books' proprietary recommendation engines utilize highly advanced algorithms developed by the same team that helped create the Netflix recommendation system.
The company's growing library contains over 200,000 quality titles from leading publishers including Simon & Schuster, HarperCollins, Workman, Diversion, Berrett-Koehler, Houghton Mifflin Harcourt, Kensington, Sourcebooks, HarperCollins Christian, IPG, Open Road Media, RosettaBooks, and a distribution deal with Ingram Content Group, which provides full catalogs from 400 additional publishers.
More information can be found online at http://www.entitlebooks.com. Hangout with us on Google+ (https://plus.google.com/+Entitlebooks/about) or follow us on Facebook (facebook.com/entitlebooks) and Twitter (@EntitleBooks).
# # #