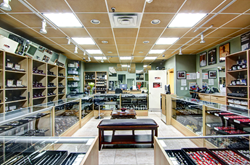 New York, NY (PRWEB) November 25, 2014
ItsHot.com is excited to be celebrating their 10th year in business as a jewelry retailer. 2014 marks the 10th year ItsHot.com Diamond Jewelry Company has offered their luxurious pieces to residents of New York and all over the world.
Their collections include beautiful diamond jewelry for men and women, including a great collection of engagement rings, wedding bands, anniversary rings, diamond bracelets, pendants, chains, necklaces, men's pinky rings, ladies diamond rings, as well as diamond watches at affordable prices. Every diamond used in their jewelry is completely authentic. Celebrities like Snoop Dogg, Kim Kardashian, T.I., Manny "Pacman" Pacquiao, and Aubrey O'Day of Danity Kane, Akon and many, many others have worn pieces from ItsHot.com. They are the place to go for diamond jewelry in NYC!
ItsHot.com has over 20,000 pieces in their collection, which includes diamonds in most popular shapes such as round and princess cuts, as well as fancy shapes such as asscher cut, emerald, cushion cut, and others, set in your choice of 10K, 14K, 18K white, yellow, and pink gold, sterling silver, and platinum. They offer a massive selection of diamond engagement rings that can fit any budget. Choose from selections like round diamond engagement rings, antique style, princess cut, baguette, solitaire, cushion cut, and the popular Halo engagement rings. Customers can place an order online or stop by their New York showroom. They offer 24/7 customer support to ensure their customers have exactly what they need.
Visit the http://www.itshot.com/ website to view their complete jewelry collection or call 1-866-423-6262 for more information.
About ItsHot.com: ItsHot.com is a jewelry retailer in New York's jewelry district that was founded in September 2004. They are a manufacturer and wholesaler of high-end fine diamond jewelry and diamond watch designs. The staff at ItsHot.com has more than 20 years of experience. They manufacture most pieces sold and specialize in custom jewelry. ItsHot.com is a worldwide retailer, with exports to Canada, Europe, South America, and Southeast Asia.