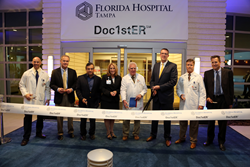 We are honored and excited to make this investment in our community.
Tampa, FL (PRWEB) October 24, 2014
Florida Hospital Tampa is elevating health care for the Tampa Bay community by opening a new state-of-the-art Emergency Room and Intensive Care Unit with a new model of emergency care for patients and families. The new 42,500 square-foot Emergency Room is twice the size of the current ER and is scheduled to open in early November. Located in between the Women's Health Pavilion and the Florida Hospital Pepin Heart Institute, the new ER is designed to create a better patient experience by improving patient flow and reducing emergency room wait times. The $53 million ER will include 48 all-private and spacious treatment rooms with accommodations for family members. The new $17 million, 22,000 square-foot ICU Tower is located directly above the new ER and features 22 spacious, private treatment rooms designed to accommodate the patient and family members.
"We are honored and excited to make this investment in our community. The new ER and ICU Tower represent so much more than additional bricks and mortar to our campus," said Brian Adams, Florida Hospital Tampa President and CEO. "Not only are we able to offer a new, state-of-the-art building to receive and care for patients at their most critical times of need, but we we've also completely redesigned our approach to emergency care."
The new Doc1stERSM process, which will accompany the opening of the new ER in early November, ensures patients are seen by a board-certified emergency medicine physician first in an emergency. This revolutionary concept pushes typical ER points of contact, like registration or additional paperwork to the back of the ER experience, keeping the focus on treating a patient's emergency.
"Providing quality care for patients, during their most critical time of need is the reason why we're here, that's why we've completely flipped the ER experience upside down. Seeing the doctor at the beginning of the ER experience will provide faster diagnoses and better outcomes for our patients, which is what the Tampa Bay community deserves." said Dr. Wenzel Tirheimer, Emergency Room Medical Director, Florida Hospital Tampa.
Every detail of the new Emergency Room and ICU Tower is intentionally designed to improve the patient experience. From the earth-tone color palate and custom, glass blown art in the lobby to the off-center overhead hallway lighting and recognizable nature-centered photography, every inch is intended to support a sense of calm and healing. The new ER also includes dedicated CT, X-ray and Ultrasound Imaging, along with eight observe care spaces and four additional treatment and holding spaces. The new ICU Tower features 22 new patient rooms to care for our critical patients, with specific rooms that include built-in Hoyer Lifts. These lifts allow ICU staff to transfer patients with physical or neurological disabilities that restrict their movement between a bed and a chair or other similar resting places using hydraulic power, greatly reducing the likelihood of injury.
Prior to the official opening, Florida Hospital Tampa is hosting a free community event on Sunday, November 2nd from 10am to 4pm. The festivities will include guided tours, CPR and poison prevention education, family entertainment, food trucks, music and door prizes. This is a free event for the public to get a behind the scenes look at the new ER and ICU Tower before it officially opens.
For more information or to find a physician near you, visit us at FHTampa.org/NewER or call (813) 615-7300. Join us for a first look at the new ER on Sunday, November 2nd from 10am to 4pm. Florida Hospital Tampa is located at 3100 East Fletcher Ave. Tampa.
About Florida Hospital Tampa
Florida Hospital Tampa is a not-for-profit 475-bed tertiary hospital specializing in cardiovascular medicine, neuroscience, orthopaedics, women's services, pediatrics, oncology, endocrinology, bariatrics, wound healing, sleep medicine and general surgery including minimally invasive and robotic-assisted procedures. Also located at Florida Hospital Tampa is the renowned Florida Hospital Pepin Heart Institute, a recognized leader in cardiovascular disease prevention, diagnosis, treatment and leading-edge research. Part of the Adventist Health System, Florida Hospital is a leading health network comprised of 23 hospitals throughout the state. For more information, visit http://www.FHTampa.org.
About Florida Hospital Pepin Heart Institute and Dr. Kiran C. Patel Research Institute
Florida Hospital Pepin Heart Institute, located at Florida Hospital Tampa, is a free-standing cardiovascular institute providing comprehensive cardiovascular care with over 76,000 angioplasty procedures and 11,000 open-heart surgeries in the Tampa Bay region. Leading the way with the first accredited chest pain emergency room in Tampa Bay, the institute is among an elite few in the state of Florida chosen to perform the ground breaking Transcatheter Aortic Valve Replacement (TAVR) procedure. It is also a Larry King Cardiac Foundation Hospital. Florida Hospital Pepin Heart Institute and the Dr. Kiran C. Patel Research Institute, affiliated with the University of South Florida (USF), are exploring and conducting leading-edge research to develop break-through treatments long before they are available in most other hospitals. To learn more, visit http://www.FHPepinHeart.org.