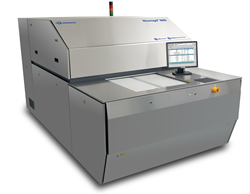 Taipei, Taiwan (PRWEB) October 24, 2014
Ichia Technologies, Inc., one of the world's leading high-end flex PCB makers, has selected Orbotech, Ltd., as their vendor-of-choice for their newest DI system, the Nuvogo™ 800. Ichia has chosen the new Nuvogo 800 system from Orbotech for its advanced technology, adaptability to a wide range of resist types and high throughput.
With the Nuvogo 800, Ichia, a longstanding customer of Orbotech, will benefit from the latest advanced DI solution for mass production. The system has a powerful multi-wave laser to support a wide range of resist types for maximum production flexibility, significantly reducing overall costs per print. Supported by Orbotech's field-proven Large Scan Optics (LSO) Technology™ for high depth-of-focus, Nuvogo 800 delivers unmatched throughput of up to 7,000 panels per day, setting a new standard in direct imaging for high-end mass production.
"Our investment in the Nuvogo 800 is our endorsement of our long and rewarding partnership with Orbotech, who have been our vendor-of-choice for our DI, AOR and AOI solutions over the years", stated the management team at Ichia. "We are very excited with the performance of the Nuvogo 800 - it supports our most advanced fine line and thin flex applications using Modified Semi-Additive Process (MSAP) for higher yields and productivity."
"We are very pleased to have been selected by Ichia for our newest DI system, the Nuvogo 800," said Mr. Gaby Waisman, President of Orbotech Pacific Ltd. "DI provides significant advantages to the production of today's thinner, lighter and more sophisticated electronic devices. As Ichia continues to increase its manufacturing productivity, Orbotech's DI system will play a critical role as an enabling solution for manufacturing complex designs at high volume." He added, "We are confident that the Nuvogo 800 will enable Ichia to lower costs and achieve thickness reduction at unprecedented speed and quality levels."
About Ichia Technologies
Ichia Technologies Inc. was founded in 1983 based in Taiwan and has a world-class reputation and over 30 years professional experience in manufacturing of conductive rubber keypads, plastic injected parts (single/double-shot) and customer keyboard assemblies. In 2001, Ichia further diversified into the flexible printed circuit board ("FPC") with high-density circuitry market. By the end of 2010, Ichia had approximately 7,000 employees worldwide and had been awarded ISO 9002, ISO 14001 and QS 9001 certification.
About Orbotech Ltd.
Orbotech Ltd. has been at the cutting edge of the electronics industry supply chain, as an innovator of enabling technologies used in the manufacture of the world's most sophisticated consumer and industrial products, for over 30 years. The Company is a leading provider of yield-enhancing and production solutions, primarily for manufacturers of printed circuit boards, flat panel displays and other electronic components. Today, virtually every electronic device is produced using Orbotech technology. The Company also applies its core expertise and resources in other advanced technology areas, including character recognition for check and forms processing and solar photovoltaic manufacturing.
Headquartered in Israel and operating from multiple locations internationally, Orbotech's highly talented and inter-disciplinary professionals design, manufacture, sell and service the Company's end-to-end portfolio of solutions for the benefit of customers the world over. For more information please see the Company's filings with the SEC at http://www.sec.gov and visit the Company's corporate website at http://www.orbotech.com. The corporate website is not incorporated herein by reference and is included as an inactive textual reference only.
Company Contact:
Ann Michael
Senior Corporate Marketing Communications Manager
Orbotech Ltd.
+972.8.942.3148
ann(dot)michael(at)orbotech(dot)com