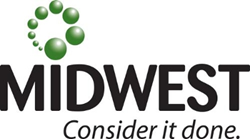 Canton, OH (PRWEB) October 24, 2014
When a major North American Molybdenum mining company decided to search for a new means of dust reduction, they eventually determined that they had four options from which to choose: water, a lignin-based product, a base oil product, and EnviroKleen. At that time, they were spending $642,000 per year on their current program, a figure that does not even include the losses incurred from interference with normal operations due to the need to reapply the product every three days. Finding the situation untenable, the company approached Midwest, who in turn provided a full-site audit to identify critical needs that their Fines Preservation Program® would address.
Beyond concentrating on the basic cost-reduction goals underlying the review, Midwest identified critical needs to be addressed: to reduce the total number of man-hours committed to dust reduction per year from 487 to less than 250, and to reduce the average number of product applications required per year from 122 to 61. In considering all elements of a mining operation, Midwest successfully delivered a comprehensive program with full audits and performance tracking to meet the company's objectives.
From a glance at the results of the program, it becomes clear that the Fines Preservation Program was a great success. With regards to the principal indicators, EnviroKleen not only reduced costs by 35 percent, but also cut the total number of applications needed per year from 122 to 28, far exceeding the client's objective of 61. Likewise, this solution ended up reducing the number of man-hours needed per year for dust reduction from 487 to 133, as opposed to the proposed 250.
Midwest also identified two important operational improvements related to the use of their product: Namely, the use of the mine shaft altered fewer product movements and production activities experienced reduced interference overall. Both of these changes effectively constitute an additional "hidden" source of savings for the mining company.
By adopting a results-oriented approach and being sensitive to the client's needs, Midwest has once again transformed a business' day-to-day operations by making the work environment more efficient and safer for employees. And to think that it all began with dust.
Midwest is the world leader in environmentally sound dust control, erosion control, and soil stabilization technology. We bring our customers more solutions, documentation and support than any other manufacturer. On a daily basis, we challenge ourselves to become even more accessible problem solvers so we can set a new industry standard for proactive and responsive service. Pushing the envelope is part of our corporate DNA, and we strive, always, to develop cutting-edge processes, products and services; stay on top of the learning curve, and educate our customers for our mutual success.