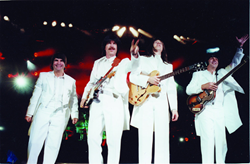 Toledo, OH (PRWEB) October 25, 2014
Join the Toledo Symphony and Classical Mystery Tour this weekend as they revive the classic sound of the Beatles in this one night only show. Conductor Martin Herman along with Beatles look-alikes Tyson Kelly, Benjamin Chadwick, David John, and Joseph Bologna will perform a selection of works by Lennon, McCarney and Harrison.
The L.A. Times review of Classical Mystery Tour said, " more than just an incredible simulation… the welling strings and soaring French horn lines gave [the] live performance a high goose-bump quotient… the crowd stood and bellowed for more."
Selections from the following will be performed: A Day in the Life, A Hard Day's Night, All You Need is Love, Beatles Medley Overture, Come Together, Golden Slumbers, Good Night, Hello, Goodbye, Here Comes the Sun, I am the Walrus, I saw her Standing There, Imagine, Live and Let Die, Magical Mystery Tour, Penny Lane, Sgt. Pepper's Lonely Hearts Club Band, She's Leaving Home, Something, The Long and Winding Road, Yellow Submarine, and Yesterday.
This concert will take place on Saturday, November 1, 2014 at 8PM at the Stranahan Theater.
For Tickets
Visit the Toledo Symphony Box Office at 1838 Parkwood Ave, Toledo (M-F 9-5), call (419) 246-8000, or click http://www.toledosymphony.com for online purchases. Tickets are also available at the door the evening of the concert. Tickets start at $25.
The Toledo Symphony
With roots as early as 1838, the Symphony sees itself as the musical heart of Northwest Ohio, supporting Neighborhood and Regional Concerts, a School of Music and three youth orchestras in addition to traditional concert offerings (Classics, Pops, Family, Mozart & More and Chamber).