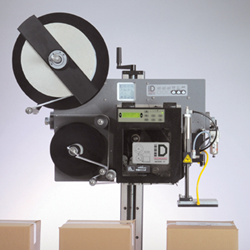 Fort Worth, TX (PRWEB) October 24, 2014
ID Technology - powered by Pro Mach, a leading provider of labeling, coding and marking solutions, will be debuting the new 3-Panel Tamp Module for their Model 252 Label Printer Applicator at Pack Expo International; booth N-5406.
The module is designed to work with a standard Model 252, the #1 selling printer applicator. The 3-Panel module was specifically built for production lines requiring the application of multiple labels to boxes or pallets at the same point in the production line. The result is a unique printer applicator that does the work of three.
As a pallet approaches the printer applicator a tamp assembly, with a label on the tamp pad is extended. Once the tamp assembly is fully extended, the tamp pad rotates towards the approaching pallet and applies the label to the front panel. The tamp assembly then retracts to home position. As the pallet passes by the printer applicator, the tamp module extends just far enough to apply a label to the side panel. Once the pallet has passed the tamp module, the entire assembly extends again. This time the tamp pad rotates towards the back panel and applies a label. For added flexibility, operators can select label application to one, two or three panels of pallets or cases.
The Model 252 Label Printer Applicator and all related modules are built with ID Technology's revolutionary Centerline Modularity™ design philosophy. The goal of Centerline Modularity is to create an easily identifiable reference point for default calibration in product identification machinery. This is accomplished through a proprietary process that identifies and catalogues all possible points of adjustment in a machine, and then eliminates as many of those adjustment points as possible resulting in increased uptime and lower operating costs.