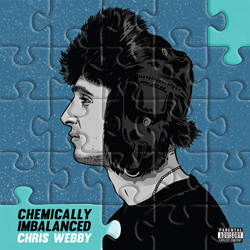 New York, New York (PRWEB) October 24, 2014
Christian Webster, Chris Webby, is celebrating the release of his newest album Chemically Unbalanced in New York City. His album drops October 28th, followed on Wednesday by a concert at S.O.B.'s.
Webby released "F*uck Off" as a single off the new album teasing, and to entice fans to pre-order the release. For those who did and shared proof with him, MC Webby 'snapchatted' some fans a personal message of thanks.
Coming from Norwalk Connecticut Webby has built his musical career from the bottom up. He first released The White Noise LP mix tape and has continued to release 6 free mix tapes available on datpiff.com. All the while he's been working his way up for his album release.
RAW papers sponsored a music video he appeared in with CJ Fly, Nitty Scott MC, and Smoke Dza. He has worked with Mac Miller, Freeway and Kid Ink amongst many others, ultimately creating a name for himself. Returning to the east coast for a tour celebrating the release. His New York City show is October 29th at S.O.B.'s starting at 9pm.
For any questions on the plans between the rap star contact Dana Biondi (Webby's manager) at Dana.Biondi1(at)gmail(dot)com.