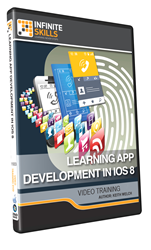 Learn App Development in iOS 8 at your own speed.
(PRWEB) October 24, 2014
Software training firm Infinite Skills Inc. this week introduced its "Learning App Development in iOS 8 Tutorial," a fundamentals course providing an introduction to development and distribution with the Apple iOS software development kit (SDK).
The iOS SDK includes the languages XCode and Objective C, along with frameworks that make it possible for apps to receive and process information from the device's hardware and perform other critical functions such as linking with social networking platforms, media libraries, and more.
Infinite Skills' "Learning App Development in iOS 8 Tutorial" provides introductions to working with social APIs, App Store purchasing, motion sensors, and location services, and teaches the essentials of XCode and Objective C. Combined with the course on the new Swift language, sold separately, Infinite Skills offers a total package for getting started in iOS 8 development.
Learning App Development in iOS 8 Development Tutorial - Streaming Video
Course author Keith Welch has spent more than 30 years working in the software industry, with 10 years working in .NET technologies, and the last 10 years focusing on mobile development. His many proficiencies include iOS, Android, Windows Mobile, ASP.NET, and more. Welch currently specializes in mobile developer tools, development consulting, and custom app development.
Welch begins by explaining the basics of object-oriented programming, along with how to register with Apple as a developer and begin using the iOS SDK.
The course then covers the interfaces of the different frameworks and table views, before Welch begins with the basics of apps, creating navigation and toolbars, other controls, and working with social media and location services.
The course concludes with chapters covering data storage, beta testing, working with iCloud, the new kits in iOS 8, and working with the App Store.
"These core frameworks are critical to providing the functionality that has made iOS the most used mobile platform on the market," Welch explains.
"In this collection of courses, we'll look at several of the primary frameworks that are critical to a wide variety of iOS applications, along with the new capabilities of iOS 8."
Free demo videos and a full list of course contents can be found on the "Learning App Development in iOS 8 Tutorial" training page of the Infinite Skills website:
http://www.infiniteskills.com/training/learning-app-development-in-ios-8.html
Infinite Skills offers its "Learning App Development in iOS 8 Tutorial" either as a DVD or a direct download from the company website at a retail price of $99.95. All titles and formats are compatible with Mac and Windows operating systems. Shipping is available around the globe. Additionally, Infinite Skills tutorials are supported by project files which correspond to examples in the videos, allowing users to work alongside experienced instructors right on their computer or iPad.
About Infinite Skills Inc.
A leader in the field of software training, Infinite Skills designs its courses on a task-oriented model, teaching complex skills by providing hands-on examples and guiding users as they carry out essential functions. Infinite Skills offers a wide range of software titles available as DVDs, digital downloads, and in iPad editions. Infinite Skills now offers a subscription service, providing access to all its training content for a monthly fee, keeping with company's aim of delivering professional training to customers anywhere they want to learn.