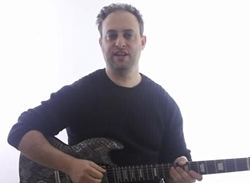 (PRWEB) October 24, 2014
Claude teaches this jazz guitar lesson based on constructing chords from the major scale in the key of A major. Johnson demonstrates the chord progression as the 2 – 5 – 1 progression, which he says is a staple of the jazz genre. The 2 – 5 – 1 progression is composed from playing the chord voicings based off of the 2nd, 5th and first positions of the major scale. The chord voicings that Johnson uses are as follows; for the two chord he uses Bm7 (B minor seven), for the Five chord he uses E7 and for the One chord he uses AM7 (A major seven). Johnson continues by performing this easy jazz chord progression using different voicings of the same chords.
Claude recommends practicing this idea in different keys and using as many different voicings of the chords that you know as to utilize all of the strings in different positions. Guitar TAB's are available for this easy jazz rhythm guitar lesson at GuitarControl.com.
The major scale, aka the Ionian Mode, is a seven tone diatonic scale that is widely used in western music. The eighth duplicates the first at double its frequency so that it is called a higher octave of the same note; its name is derived from the Latin "octavus," or eighth.
Claude Johnson
Claude Johnson, a native of Philadelphia PA, began playing guitar in 1990 after being inspired by players like Jimi Hendrix, Eric Clapton, and Stevie Ray Vaughn. He is the creator of GuitarControl.com and has helped 1000's of people to learn to play the guitar with his critically acclaimed instructional DVD courses, all available at GuitarControl.com
About GuitarControl.com
GuitarControl.com is the leader in modern guitar instruction. It's packed with recourses including articles, video lessons, and the best videos in the business for the beginner to the advanced guitar student taught by the best instructors out there. Weather you are into the blues, rock, jazz, metal, folk, or anything in between, they have you covered.