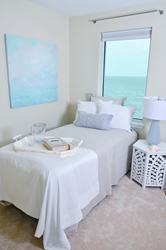 We take pride in the fact that what you see is what you get.
Gulf Breeze, FL (PRWEB) October 28, 2014
Gulf Breeze Recovery has just added a new virtual tour of its residential addiction treatment facility in Florida. Complete with 360-degree views of guest room accommodations, counseling and recreation areas, the tour is more comprehensive than flat pictures alone.
The purpose for offering the tour is to show what the facility really looks like so future guests can feel more comfortable knowing what to expect.
"We take pride in the fact that what you see is what you get," exclaims Reed Smith, Vice President of Admissions at Gulf Breeze Rcovery. Smith and other staff members can also be seen on videos explaining their roles at the facility as well as covering their famous 15-part pledge.
Not only can you see and hear from multiple staff from the center, but you can also watch testimonials from real guests who have completed the Gulf Breeze Recovery program.
"We are committed to making the experience as real as possible before arriving," says program founder Barnett Gilmer. "That is why we continue adding more video content to our website of the facility, the staff and real guest feedback."
The longer-term rehabilitation program includes private and semi-private guest rooms, many with views of the water. Recreation, clinical and other therapeutica areas are diversely spread throughout the inside and outside of the facility. A live webcam feed is also featured that overlooks the water and provides real-time views of the local conditions.
The treatment center offers a unique approach to drug and alcohol rehabilitation that seeks total health recovery. Check out http://www.gulfbreezerecovery.com today to learn more about the program, take the tour and watch the other videos.