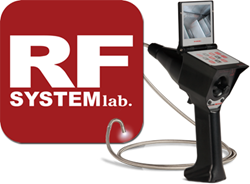 Traverse City, MI (PRWEB) October 27, 2014
RF System Lab, manufacturer of the groundbreaking VJ-Advance (VJ-ADV) video borescope, is proud to welcome two new sales consultants to their team of borescope experts. The non-destructive testing industry is growing rapidly, increasing the demand for a low cost, high quality video borescope. RF System Lab's expanded sales team will allow them to continue to exceed customer expectations by remaining a world-wide leader in remote visual inspection.
Chad Parker joined RF System Lab as a Sales Consultant. He works with the entire RF System Lab team to find cost effective solutions to a diverse array of remote visual inspection (RVI) issues in multiple industries. Since graduating from Southern Illinois University with a degree in Communications, he has worked in sales, focusing on the medical device industry. Chad enjoys traveling, golfing, and spending time with family.
Zack Wessels is a Sales Consultant for RF System Lab. He helps customers select the ideal high-quality video borescope for their specific inspection application. Zack graduated from the University of Iowa, where he held a major in Management and minor in Spanish. Eight years ago, he moved to Traverse City, Michigan and was most recently working in website sales and marketing. In his spare time, Zack enjoys spending time with his wife and two daughters, motorcycling, Frisbee golfing, running and kayaking.
RF System Lab would like to sincerely welcome Chad and Zack to their team of borescope experts. If you would like to demo the VJ-Advance video borescope, you can sign up for a no-cost, no-obligation demo program. For more information on RF System Lab, please visit their website or call 855-787-6966.