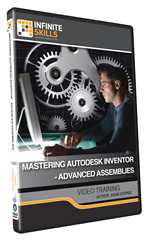 Learn to master Autodesk Inventor - Advanced Assemblies at your own pace
(PRWEB) October 26, 2014
Software training firm Infinite Skills Inc. this week released its "Mastering Autodesk Inventor - Advanced Assemblies," an advanced course designed for experienced Inventor users covering issues specific to working with large assembly-level models.
Autodesk Inventor is the leading 3D CAD software used to create, visualize, and simulate mechanical products within an assembly-based modeling approach.
Infinite Skills' "Mastering Autodesk Inventor - Advanced Assemblies Tutorial" begins with an overview of working with large assemblies, and then shows how to work with highly detailed models in positioning, working with frames, motion constraints, and weldments.
Mastering Autodesk Inventor - Advanced Assemblies Training Video - Streaming
An Inventor user since 1999, course author Adam Cooper is a career mechanical engineer designing primarily plastic installations in the automotive industry. He is also an accomplished trainer and a regular speaker at Autodesk University. He is an Autodesk Certified Instructor in Inventor along with several other Autodesk programs.
Cooper begins with an overview of working with large assemblies, and then goes into detail with working with advanced constraints for part motion, flexibility, and transitions.
He then provides a detailed overview and how-to explanations on specific topics for handling model positioning and level of detail, teaching how to edit positional representations, and work between multiple detail views.
He then provides an introduction to frame generator and explains how to create a frame skeleton, add it to a model, apply end treatments, and other elements on using the tool to create finished models.
The final chapter explores weldments, explaining the weldment environment, preparations, and application, along with documentation.
"This course is an in-depth look at how to work with higher end assembly techniques for Inventor," explains Cooper. "By the end of the course you'll have the knowledge and skills you need to work efficiently with large assembly-level models."
Free demo videos and a full list of course contents can be found on the "Mastering Autodesk Inventor - Advanced Assemblies" training page of the Infinite Skills website:
http://www.infiniteskills.com/training/mastering-autodesk-inventor-advanced-assemblies.html
Infinite Skills offers its "Mastering Autodesk Assemblies - Advanced Parts Tutorial" either as a DVD or a direct download from the company website at a retail price of $24.95. Though the compatibility of programs varies, all Infinite Skills titles and formats are compatible with both Mac and Windows operating systems, and shipping is available around the globe. Additionally, Infinite Skills tutorials are supported by project files which correspond to examples in the videos.
About Infinite Skills Inc.
A leader in the field of software training, Infinite Skills designs its courses on a task-oriented model, teaching complex skills by providing hands-on examples and guiding users as they carry out essential functions. Infinite Skills offers a wide range of software titles available as DVDs, digital downloads, and in iPad editions. Infinite Skills now offers a subscription service, providing access to all its training content for a monthly fee, keeping with company's aim of delivering professional training to customers anywhere they want to learn.