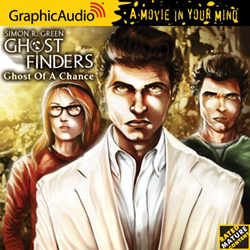 GraphicAudio has always produced excellent, cutting edge audio adaptations of my work
Bethesda, MD (PRWEB) November 10, 2014
GraphicAudio® A Movie in Your Mind® releases the audiobook version of the GHOST FINDERS series by Simon R. Green. Experience an audiobook like never before with sound effects, music and a full-cast recording that truly create "a movie in your mind" by listening to a 37 minute Extended Sample from the first title in the series, GHOST OF A CHANCE.
Director Scott McCormick says "The ghosts, ghoulies and long legged beasties that who stalk the darkest corners of Simon R. Green's come to vivid life in GraphicAudio. The Ghost Finders are one part Ghostbusters, one part Monty Python and a healthy dose of The Exorcist. You may need to leave the lights on."
"GraphicAudio has always produced excellent, cutting edge audio adaptations of my work; bringing out the characters and making my worlds real." says Simon R. Green.
GHOST OF A CHANCE introduces us to the Carnacki Institute whose mission is to do something about ghosts. Reacting to reports of passengers going missing from the London Underground's Oxford Circus Tube Station, the Carnacki Institute dispatches a team of three operatives. JC Chance: sharp, brave, charming, and almost unbearably arrogant; Melody Chambers: science geek, techno-wizard extraordinaire who keeps the anti-supernatural equipment running smoothly; and Happy Jack Palmer: the telepath with the gloomy disposition, the last person anyone would want navigating through their head.
In the second title, GHOST OF A SMILE, a distress call is received from the private research center of one of the biggest drug companies in the world. The police go in and never come out. A national security team storms the place but no one's heard anything further from them either.
Now it's in the hands of the Carnacki Institute's rising stars. They have the wrong equipment. They have no idea what awaits and they have the clock ticking in the background. But they also have a secret weapon: JC's very lovely - and very dead - girlfriend...
GHOST OF A CHANCE and GHOST OF A SMILE are now available from GraphicAudio.net. GraphicAudio will be releasing the rest of the series in the upcoming months.
About the Author: Simon R. Green is the author of the New York Times bestselling Nightside and Secret History series, the classic Deathstalker cycle, the New York Times bestseller ROBIN HOOD: PRINCE OF THIEVES, and has over 50 novels in print with over three million copies sold worldwide. He lives in Bradford-on-Avon in Wiltshire.
About GraphicAudio®: Celebrating their 10th anniversary this imprint of The Cutting Corporation has published approximately 900 titles and 60 different series in their GraphicAudio® A Movie in Your Mind® audiobook entertainment format. For more information visit: http://www.graphicaudio.net