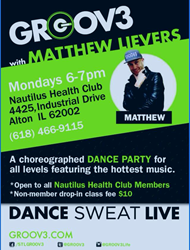 "Dance, Sweat, Live" -- it just…feels…GOOD!
St. Louis, MO and Alton, IL (PRWEB) October 27, 2014
So nice, they did it twice – two new locations in the Greater St. Louis area to get your GROOV3 on! GROOV3 doesn't want to keep this all to themselves, so LA's "Hottest Choreographed Dance Party" with the freshest jams and simple combinations made for all levels is now in the neighborhood.
Come in for an hour and leave all cares at the door.
Stress release –- check.
Sweat with a smile while getting a great workout -– double-check.
The build-on routine style class, complete with live DJ-driven music, elevates everyone's dance experience. "Dance, Sweat, Live" -- it just…feels…GOOD.
Two awesome local certified instructors will be leading the charge. Meet Meghan McCreary. She's been dancing for quite a while and inspired by many types of music and dance, namely hip hop. Meghan earned a bachelor's degree with an emphasis in Physical Education and Health from Missouri Baptist University; she understands the importance of health and fitness and enjoys educating her students and incorporating dance and fitness into the classroom. Meghan teaches at M&M Dance Academy, Mondays at 6:30pm. A single class is just $12. M&M Dance Academy is located at 13881 Manchester Rd., Town and Country, MO 63011.
Meet Matthew Lievers. Matt is another veteran to dance and fitness. He has taught across a variety of dance styles and done industry work in Los Angeles. Matt studied Mass Communication along with theater and dance at Southern Illinois University of Edwardsville. You're in great, talented hands with Matt. GROOV3 with him at Nautilus Fitness Center, Mondays at 5:30pm. The class is open to all Nautilus members. Non-member drop-in fee is just $10. Nautilus Fitness Center is located at 4425 Industrial Drive, Alton, IL 62002.
GROOV3 certified instructors are eager to reach out to their local community!
GROOV3 is an all-levels dance community. Each class is an hour-long, DJ-driven celebration of movement and fitness for all comers. Visit their website for more info. The "3" in GROOV3 stands for Benjamin Allen's motto, "Dance, Sweat, Live".