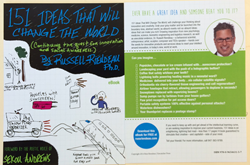 When CEOs lead the way to encourage outrageous innovation and experimentation, employee morale skyrockets.--Russ Riendeau
Chicago Illinois (PRWEB) October 29, 2014
Can you imagine:
-Popsicles, chocolate or ice cream infused with sunscreen protection?
-Lightning bolts powering healing music in a neonatal ward?
-Medicine delivered into your body via cellular satellite signals?
-Waterless dishwashers?
-Holographic landscaping from your front yard?
-Snowplows replaced with vaporizing beams?
151 Ideas That Will Change The World: Continuing the quest for innovation and social awareness (Eyecatcher Press 2014), a new eBook by Dr. Russ Riendeau, is a free download full of ideas. The author, a long time retained search professional and entrepreneur, takes a seriously fun approach to innovation and idea generation in only 17 fast pages. Ideas for new products, redesigning old products, repurposing machines, processes and mindsets to jump start 1000s of new ways to make life more safe, secure and efficient.
Inspiration for the book, says the author, arose from the championing of innovation and education from the likes of TED Talks, the huge educational site with 1000s of free presentations, as well as Chicago Ideas Week, another large platform for leading the charge of curiosity and collaboration. "When CEOs lead the way to encourage outrageous innovation and experimentation, employee morale skyrockets," says Russ Riendeau, who is also a behavioral scientist. "Creativity lies within every person. It just takes some time to flush out the ideas that we don't always label as creative."
The book also has a section that discusses the creative process and how any person can tap into new ideas by utilizing a few simple exercises. The Foreword for the book, written by poet, Sekou Andrews, is a dynamic writer, poet and artist that has performed for President Obama, Oprah, and major corporate events.
For more information, call Eyecatcher Press, 847-363-9789.
151 Ideas is a Free download at http://www.russriendeau.com, courtesy of Eyecatcher Press.