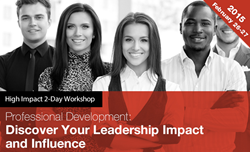 Hispanic professionals across America are faced with an identity crisis at work that makes it difficult for them to be their most authentic selves
Irvine, CA (PRWEB) October 27, 2014
On February 26-27, 2015 the Center for Hispanic Leadership (CHL) will be hosting its flagship workshop program – Discover Your Leadership Impact and Influence at the Island Hotel in Newport Beach, CA. Glenn Llopis, a nationally recognized thought leader, bestselling author and contributing writer to Forbes, Harvard Business Review and Huffington Post, will facilitate this high-impact two-day program that teaches Hispanic professionals the four critical skills and six characteristics to reach their full potential in the workplace.
According to Llopis, "Hispanic professionals across America are faced with an identity crisis at work that makes it difficult for them to be their most authentic selves -- which in turn impacts their ability to lead and perform at their highest levels. Center for Hispanic Leadership research as uncovered that 95% of non-Hispanic supervisors are unaware that cultural values influence the most natural ways Hispanics think, act and perform as leaders. This explains the identity crisis that Hispanic professionals are faced with in the workplace and why they are only performing at 40% of their full potential and limiting their ability to advance into more senior leadership roles."
CHL's intensive two-day workshop teaches Hispanic professionals how to be high performance leaders through group-think situational analyses, case studies and personal branding exercises that will awaken their most authentic leadership brand identity – to become a more decisive, inclusive, forward-thinking and influential leader. Prior CHL workshop participants that have included leaders from Fortune 500 clients such as Target, Walmart, Pepsico, Coke, Home Depot, and many others have described the workshop experience as "transformational, eye-opening, awakening" with a 100% approval rating.
For more information about how to attend the workshop and/or sponsorship opportunities for your corporation, please contact Vice President of Client Relations, Annette Prieto-Llopis at APrieto(at)centerforhispanicleadership(dot)com or at 949-387-2609.