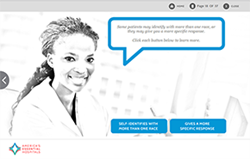 Minority and other vulnerable patients face persistent disparities in health status - a gap we can close only by first understanding who these patients are
WASHINGTON, DC (PRWEB) October 30, 2014
Recording a patient's race, ethnicity, and language (REAL) in a culturally sensitive way makes for better health care. Today, America's Essential Hospitals gave hospital staff a new online tool to learn the best ways to collect REAL data.
The association, which represents 250 hospitals committed to caring for the vulnerable, released to its members Ask Every Patient: REAL, an interactive, self-paced tutorial about how to solicit REAL information from patients to improve their care.
The free tool is believed to be the first of its kind for hospital registration staff.
"Minority and other vulnerable patients face persistent disparities in health status - a gap we can close only by first understanding who these patients are," said Bruce Siegel, MD, MPH, president and CEO of America's Essential Hospitals.
"With REAL data, you see your patients through a lens of ethnic and racial factors that can guide better care," said David Engler, PhD, senior vice president of leadership and innovation. "It supports culturally competent care and improves the care experience. It aids communication with patients and their families. And it helps us measure our progress toward more equitable care."
Ask Every Patient: REAL, available now to the association's member hospitals and, through a consulting partner, to federally qualified health centers, incorporates both an online component and downloadable teaching materials, including guidance on race and ethnicity categories and scripts for effectively soliciting REAL information from patients and responding to challenging questions.
The learning module reflects Office of Management and Budget guidelines on race and ethnicity categories, federal health information technology meaningful use attestation requirements, and Joint Commission recommendations for REAL data collection.
The module's launch is the latest advance in ongoing association work to promote equity in care. America's Essential Hospitals is an active partner in the National Call to Action to Eliminate Health Disparities and has made reducing care disparities a focus of its federal Partnership for Patients hospital engagement network, the Essential Hospitals Engagement Network (EHEN).
The EHEN, one of 26 hospital networks nationwide working to make hospitals safer and reduce readmissions, will be among the REAL learning module's primary audiences.
"Engaging patients and their families in a culturally sensitive way is a vitally important part of making health care safe and effective," Engler said. "REAL data also helps hospitals recognize and overcome sociodemographic factors that can impede care and cause a readmission."
About America's Essential Hospitals
America's Essential Hospitals, formerly the National Association of Public Hospitals and Health Systems, is the leading association and champion for hospitals and health systems dedicated to high-quality care for all, including the most vulnerable. Since 1981, America's Essential Hospitals has initiated, advanced, and preserved programs and policies that help these hospitals ensure access to care. It supports members with advocacy, policy development, research, and education.
Our 250 members are vital to their communities, providing primary through trauma care, disaster response, health professionals training, research, public health programs, and other services. They innovate and adapt to lead the broader health care community toward more effective and efficient care. Visit EssentialHospitals.org to learn more.