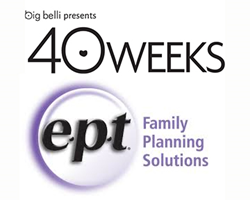 New York, NY (PRWEB) October 28, 2014
Big Belli and the 40 Weeks documentary team are dedicated to supporting women through the journey of pregnancy, as evident through the online community they initiated to provide expectant families with education and comfort through every step of the process. The mastermind behind 40 Weeks, Director Christopher Henze, decided to create the documentary due to the limited information in film format available in the market. 40 Weeks was developed to provide guidance and a sense of reassurance to families during their entire pregnancy journey.
Big Belli decided to work with with the e.p.tTM brand due to the brand's commitment to providing women with fast, accurate pregnancy test results and its dedication to advancing the category. In 1977, e.p.tTM introduced the home pregnancy test – a landmark event in U.S. culture that gave women the power to experience life-changing moments in a private, convenient way. Gone were the days when doctors or lab technicians were the first to know if a woman was pregnant – the accurate test previously only found in a doctor's office was now available on drugstore shelves.
This summer, the e.p.tTM brand announced it has once again brought a new direction to the category with the introduction of e.p.t™ Family Planning Solutions, a new suite of products that provide solutions for couples who are trying to start (or expand) their family. The new products include the e.p.t™ Complete Home Fertility Kit, the only fertility test for both men and women that can be done in the privacy of one's own home; the e.p.t™ Ovulation Test Plus, which not only alerts women to their most fertile days but also provides a month's supply of folic acid, a key nutrient that has been proven to help prevent certain birth defects; and the e.p.t™ Preconception Health Test, which allows women to identify any pre-existing vaginal infections that may be present so they can seek necessary treatment prior to conceiving, as vaginal infections during pregnancy have been linked to pre-term labor.
"One of Big Belli's main goals is to make the journey of pregnancy as stress free as possible and e.p.tTM offers great support in the start of that journey," said Big Belli CEO Dominique Debroux.
To learn more or meet the expectant families in 40 Weeks pregnancy documentary, visit http://40weeksthemovie.com/about-movie/about/.
About Big Belli:
Big Belli is a parenting content media and social networking brand committed to the health and well-being of babies and mothers. For expectant families Big Belli provides an emotional connection, easily digestible pregnancy information, in film form, and a community of people who can share experiences and expert advice. With its first offering of the documentary 40 Weeks, Big Belli is on its ways to providing moms-to-be with a comforting place to turn to during this joyous, yet stressful time in their lives.
About e.p.t™:
e.p.tTM has been a leader in home pregnancy tests since creating the category in 1977, and now the brand is once again revolutionizing the category with the introduction of e.p.t™ Family Planning Solutions. The new suite of products provides solutions for women (and men) as they embark on the pregnancy journey. Through every stage of pregnancy, e.p.t® is with you. For more information, visit http://www.eptfamily.com. e.p.t.TM is a key brand of the Women's Health platform of Prestige Brands Holdings, Inc.
About Prestige Brands Holdings, Inc.:
Prestige Brands Holdings, Inc. markets and distributes brand name over-the-counter health care and household cleaning products throughout the U.S., Canada, and certain international markets. Core brands include Monistat® yeast infection treatment, Nix® lice treatment, Chloraseptic® sore throat treatments, Clear Eyes® eye care products, Compound W® wart treatments, The Doctor's® NightGuard® dental protector, the Little Remedies® and PediaCare® lines of pediatric over-the-counter products, Efferdent® denture care products, Luden's® throat drops, Dramamine® motion sickness treatment, BC®and Goody's® pain relievers, Beano® gas prevention, Debrox® earwax remover, and in Canada, Gaviscon® antacid.