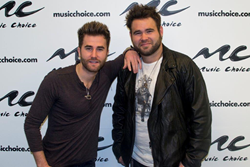 New York, NY (PRWEB) October 27, 2014
Starting today, Music Choice, the #1 FREE On Demand Provider, will feature a top level CMA AWARDS category on Video On Demand. The Music Choice folder features music videos from nominees of "The 48th Annual CMA Awards" including Miranda Lambert, Luke Bryan, Blake Shelton, Dierks Bentley, Little Big Town, Lady Antebellum, and many more! The folder will also contain exclusive interviews with CMA Award Nominees Florida Georgia Line and The Swon Brothers. The folder will be available nationally for FREE to over 57 million customers from October 27-November 5, 2014 on Music Choice On Demand. (Directional: Music Choice On Demand>CMA AWARDS)
Additionally, Music Choice's Today's Country Music Channel will feature a CMA Awards Red Carpet block program leading up to the special from 6-8p ET on 11/5. CMA Awards artist facts, images and nominee music will appear across Music Choice's Today's Country, Pop Country, and Country Hits Music Channels from 10/27-11/5.
"The 48th Annual CMA Awards" show airs Wednesday, Nov. 5 (8:00-11:00 PM/ET) from the Bridgestone Arena in Nashville on the ABC Television Network.
For additional information on Music Choice, log on to http://www.musicchoice.com
About the CMA Awards:
The first "CMA Awards Banquet and Show" was held in 1967. The following year, the CMA Awards was broadcast for the first time – making it the longest running, annual music awards program on network television. The Awards have aired on ABC since 2006. ABC will be the network home of the CMA Awards and CMA's other two television properties, "CMA Music Festival: Country's Night to Rock" and "CMA Country Christmas," through 2021.
About Music Choice:
Music Choice, the multi-platform video and music network, delivers its music programming to millions of consumers nationwide through their televisions, online and mobile devices. Music Choice programs dozens of uninterrupted music channels; produces originals that feature today's hottest established and emerging artists; offers thousands of music videos; and launched Music Choice Play, the music video, lifestyle and entertainment network for Millennials. For additional information log on to http://www.MusicChoice.com | Twitter: @MusicChoice | Facebook: http://www.facebook.com/MusicChoice