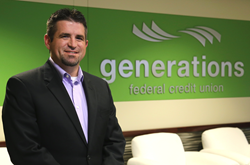 Jack brings a tremendous depth of knowledge and experience to the Generations team.
San Antonio, TX (PRWEB) October 27, 2014
Generations Federal Credit Union has announced that Jack Curtis will join the 74-year-old financial institution as Vice President of Lending. In this role, Curtis will be responsible for the strategic leadership and direction of the Consumer Lending program including, but not limited to direct consumer loans, indirect consumer lending, underwriting and collection activities.
Curtis brings more than 12 years of experience in the Consumer Lending field as well as expertise in operations management, process improvement and compliance performance. Additionally, he was named as a "Five-Star Mortgage Professional" by Texas Monthly and is a recipient of the Earl S. Rhodes Leadership award.
"Jack is an essential addition to the Generations team and brings a tremendous depth of knowledge and experience," said Clay Thompson, chief lending officer at Generations Federal Credit Union. "We look forwarding to him building on our positive momentum within the lending department and the credit union as a whole."
Prior to Generations, Curtis led the development and implementation of mortgage operations platform and loan pricing controls. Additionally, he created and developed internal lock desk function to better control margins and manage investor delivery schedules.
A north Texas native, Curtis is a graduate of Texas Tech University and is a member of Class 54 of the Southwestern Graduate School of Banking at Southern Methodist University.